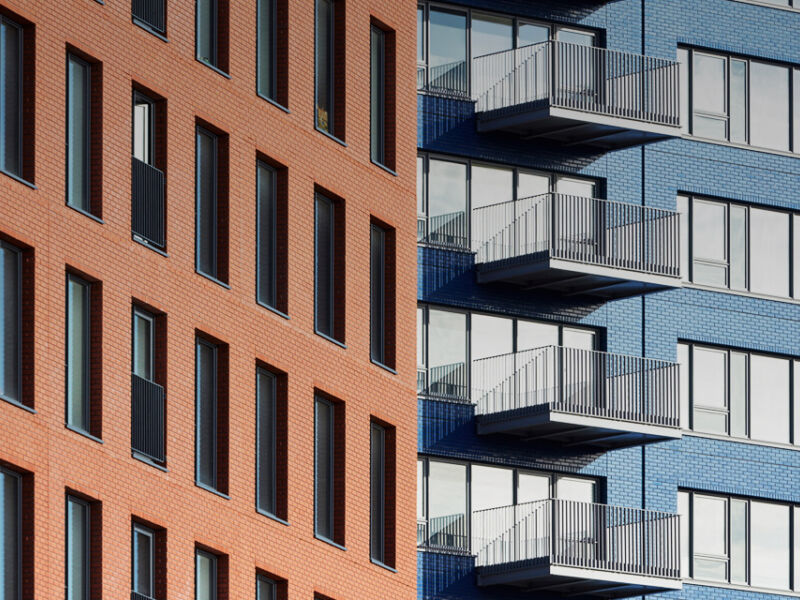 Year on year we see evolution in the qualities clay brick brings to our built environment through good manufacturing, considered architecture and sound application. This reliable contribution from such humble material is reassuring, and is emphasised by the understated role brick tends to play. It is a material seldom seen to be garish or immodest. That is not to say however, that it plays a lesser role in pushing the boundaries of contemporary design and build. The Innovative Use of Brick and Clay Products category of the Brick Awards provides such examples, in celebration of those more daring.
"Innovation in construction is a continuously important consideration for the improvement of our built environment. By developing new and innovative products, and evolving construction techniques which increase efficiency, reduce construction time and ultimately build to a better quality, we can drastically increase the durability of buildings and materials. In so doing we will be able to reduce wastage, increase our sustainable building stock and hopefully construct buildings and neighbourhoods which through their care in design, construction and occupation, help create places for sustainable and dynamic neighbourhoods and communities. This year's submissions in the innovation category push the limits in many areas to create lasting and memorable projects." – Joe Morris, Duggan Morris Architects and Head Judge, Brick Awards 2017.
Let's take a look at this year's shortlist.
Barrett's Grove
is a striking development situated in the Stoke Newington Conservation Area, comprising two three-bedroom maisonettes, three two-bedroom flats and a studio. Designed by Amin Taha Architects, the six-storey building stands on an archetypal Victorian street, and echoes the tall gables of the school and standalone presence of the townhouse between which it sits. The arresting feature of the building is the non-structural façade of perforated brickwork that matches neighbouring buildings and acts as an aesthetic rain screen. The Ibstock Birtley Old English Buff brick fits perfectly within context.
Fucina Restaurant
an Italian restaurant in Central London, casts brick at the heart of its abstract ceiling form reminiscient of Italian vaults, but reversed in place to produce a convex shape. Conceived by Andy Martin Architecture, a complex 3D parametric model was created setting out 32155 bricks individually with 55 different brick dimensions, cut by hand on 4 sides so as to smoothly create the curved surface. Forterra plain Fretton bricks were found to have the necessary hardness and smoothness to accomodate the amount of cutting required. The colour was then slightly modified by washing with a lime slurry. The affect is a soft, elegant but rustic surface with the added advantage of it acting as an acoustic defractor.
London City Island
is a new, residential-led mixed-use community on the Leamouth peninsula consisting of thirteen buildings in total, designed by Glenn Howells Architects. The development comprises 1706 residential units, new facilities for The London Film School and the new headquarters of English National Ballet. Due to the demands of a rapid construction programme, the decision was made to use offsite manufacturing techniques and a system of prefabricated loadbearing façade panels were developed. Found in Wienerberger's range of Avenue Red and Platinum White, the character of brick, choice in colour and texture, and option to glaze, were key to creating a true urban quarter with a unity of material, expression and distinction.
Victoria Gate Arcade
in Leeds, uses a variety of bespoke Ketley bricks and specials in a blend of light and dark red in conjunction with Ketley brick slips to create precast brick faced panels which have been arranged in a complex geometry with steps and pleats to form an innovative 3 dimensional masonry façade. Designed by Acme Architects, this project is a fine example of how precast technology can work to advocate the use of traditional brick on the most challenging of building facades. The project featured an innovative approach to 3D mould technology, and the use of BIM throughout the entire design and manufacturing process.
Southwark Town Hall and Theatre Peckham
represents a comprehensive scheme of regeneration, which includes a state-of-the-art studio theatre complex: a 200-seat auditorium, rehearsal space and dance studios, with foyer and breakout space accessed from a new public piazza. These facilities enable Theatre Peckham to bring their work under one roof, facilitating an ever-expanding programme of classes, performances and events. The volume of the new theatre is clad in iridescent tiles, creating a reflective façade that brings life into the piazza and an almost ethereal glow. The subtle qualities of Wienerberger's Marziale bricks provide the local identity integral to the Jestico + Whiles design.
To see this year's full shortlist click here.
If you are an architect or student of architecture click here to vote for one or more of these projects in the Architects' Choice Award.