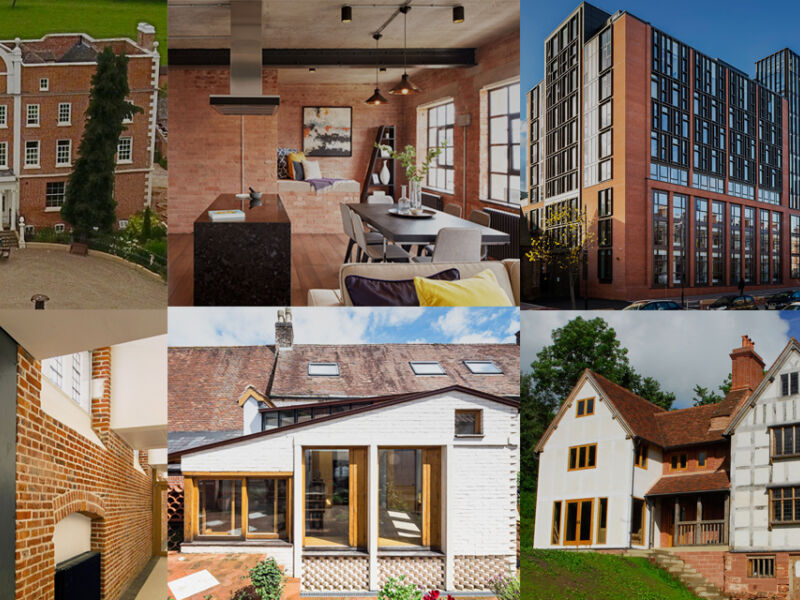 There is no question of brick's importance in the history of Britain's built environment, be that in a commercial, residential or public capacity. Brick has dominated the landscape for centuries, and so the Refurbishment category pays homage to companies that have sensitively restored or refurbished historic buildings in need of care and attention.  These shortlisted projects play a part in the protection of our heritage and thanks to the refurbishment will continue to do so for many years.
The first project featured in the Refurbishment category is Hankelow Hall, built in 1723; the Hall is incorporated into a structure that dates back to 1369. It was acquired by Kirk Shenton in 1989 and has been restored to its former glory one room at a time. The Wienerberger bricks accepted by English Heritage were to be blended seamlessly with the existing brickwork to stay true to the building's roots. Razor sharp attention to detail and a special hydraulic lime mortar helped to achieve what might be described as an 'authentic' restoration; ultrasensitive to original context, form and finish.
Brighton College's clock tower joined the shortlist as a project that sees a 127 years old design finally realised. Sir T G Jackson, designed an ornate Tudor Style entrance tower to Brighton College in 1887, but only the first two floors were built due to a lack of funds. Finally in 2017 his vision was brought to life. David Maddocks, Business Development Manager at Hathern Terra Cotta, commented: "We are very proud to be involved with this beautiful piece of architectural heritage. The comprehensive list of handmade units included decorative pilasters, window, clock and sundial surrounds, fielded panels, castellation copings, turret units, a bay window, coat of arms and Latin inscription panel. This variety of architectural terra cotta is testament to the artistic talent of our craftsmen."
The refurbishment of Queen's University Main Site Tower & Peter Froggatt Centre is also in the running. The building's façades have been refaced in a restricted palette – Lincoln Red clay brick by Wienerberger, glazed screens and bronze anodised panels. The patterning on each elevation responds to the context and particular orientation, with broad brick reveals and extended curtain wall capping pieces providing a layering to the façades, which echo the Victorian detailing of neighbouring buildings. Brick is a critical element of the façade design, in tying the scheme into its surroundings and the University's historic Quad in particular, where brickwork predominates.
Another educational establishment that made the shortlist, Marlborough College's North Block, was in serious need of refurbishment with its brickwork requiring major repair to rectify historically poor masonry maintenance.  Some areas of brickwork to the external façade required complete replacement, using new handmade Chalfont bricks by HG Matthews, under the guidance and expertise of Dr. Gerard Lynch. Dr Lynch wrote a full specification for the repairs and replacement, and provided onsite training to ensure the high standard of finish from the original construction was matched.
Garden Room uses a soft white brick in the slim sections of wall between precast concrete portal framing and the roof. The brick is laid in stretcher bond with flush pointing in white mortar. Below the windows and breaking a larger section of plain wall, panels of dogtooth brickwork are used, which creates a striking play of sunlight and shadow and gives relief to what is a thin outer leaf of masonry.
The Old Court House was built between 1509 and 1613, originally a large hall house. Time had not been kind to the building and by 2010 two thirds of the house had been lost and the remaining part had been derelict for over 30 years. Working with the British Geological Society the clay at Northcot bricks was determined to be the closest match. The original bricks were measured to determine average dimensions. Stacking marks, texture, colour variation, and regularity were all noted and moulds made for both the standard bricks and a range of specials. Essentially this entry is not about the design or the new and imaginative use of a standard brick; it is an example of how creativity and attention to detail runs through the brick making process at every stage.
A pipe factory in Camden was selected for Emerys' work, which renovated the building into apartments while retaining original features. Walls were sandblasted to remove paint that had layered over years and stopped the building breathing, revealing the original red brick warehouse building. All bricks, originally manufactured by Ibstock, where reclaimed onsite with new concrete lintels cast to match the original lintels. Where mortar repairs were required, the contractor ensured a match to the original pointing. Stripping back the brickwork revealed an interesting feature in the entrance staircases – a recess within the brickwork for the handrail which was restored along with the handrail and the exposed bricks throughout the staircases.
"It's another strong year for the refurbishment category of the Brick Awards with a contrast in both ambitions and approaches. Projects range from Brighton College with an extraordinary brief to complete an unfinished landmark from the 19th century, to a delightful and intricate domestic garden room transformation. Queens University Belfast has been carefully stripped back and a new contextual foyer formed to unify the campus. The category also features some intricate and sympathetic repair of the historic buildings in Hankelow Hall and Marlborough College." - Jonathan Dawes, Cottrell & Vermeulen Architecture Ltd and Brick Awards Judge 2017
Click here to view the shortlist in full