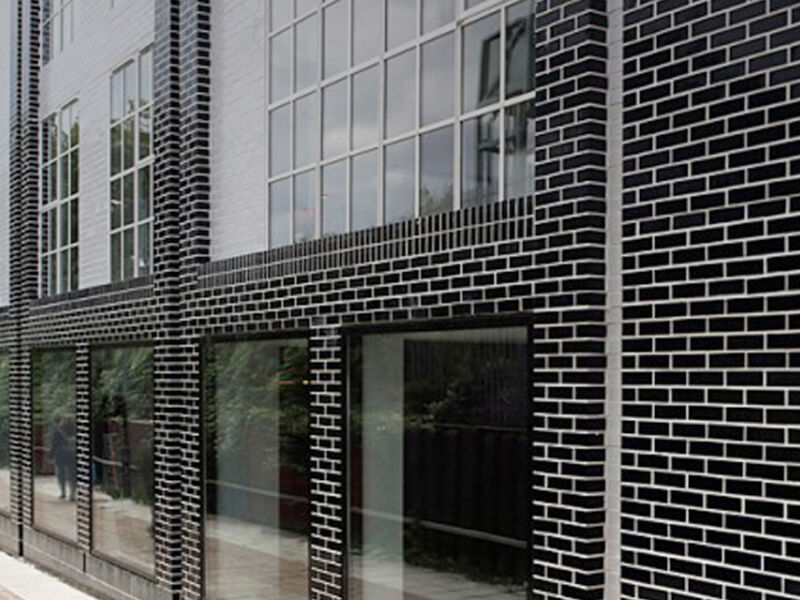 Colour adds an extra dimension to any building. It can help a building integrate into its landscape or create prominence, particularly in an urban or commercial setting.
Bricks vary in colour and finish from manufacturer to manufacturer – the source of the clay and even the slightest variation in firing temperature impact on its character. Even the brick's position within a kiln affects the aesthetic quality and relationship to other bricks in the same batch. Many bricks available historically are no longer in existence and reclaimed bricks are often not available in sufficient quantities, so good brick-matching can be a challenging task. Alongside the many bespoke options available, brick tinting could be of assistance, a process through which bricks are dyed to match the colour of those existing, or simply colour-altered for a more appealing finish.
The use of glazed brick is proving popular in contemporary architecture, helping to highlight individual design elements, break up large monolithic expanses and create distinction. They can also be used for both commercial and residential interior projects. There is a wide variety of colour, finish and size available, with some manufacturers even offering glow-in-the-dark options!
Highly skilled ceramicists carefully mix the glazes to match the brick body and create beautiful tones of colours, which makes each glazed brick unique. Manufactured from ultra-pure clays specially selected for their high quality and unique properties, glazed brick attains the highest possible standards of performance and finish.
Warren Street Apartments, a nominee from last year's Brick Awards, is a perfect example of the use of glazed brick. Constructed over two and three storeys, this landmark apartment and office building sits in an established residential context, alongside Tulse Hill's historic Railway Station, in an area characterised by classic Victorian brick architecture.
The building design and materials have been chosen to articulate an urban identity, whilst clearly announcing its presence within the established context. The façade of black and white glazed bricks, broken down in sections to reference the character of small-scale industrial architecture, is punctuated only by areas of large single pane glass windows and rectangular, industrial-scale glazing, framed in matching black and white. The façade treatments and close attention to detail (particularly the complex brick laying), provide the building with a strength of presence that matches the striking nature of its site.