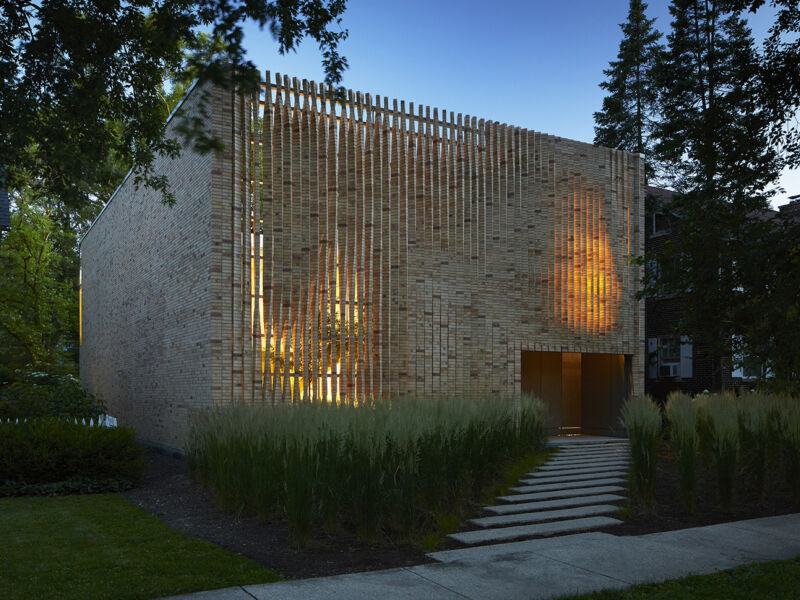 Located within a few blocks of the campus of Northwestern University in the suburbs of Chicago, this modestly sized courtyard house is wrapped almost entirely in brick. Chicago "Common" brick, as it is known, was chosen because they look different from typical red bricks - a result of the geological composition of the indigenous Lake Michigan clay and the way in which it is fired. It's variegations and irregularities made "Common" bricks unattractive – a prosaic building material used in places generally obscured from the street. Conversely, the brick at the Thayer House is highly visible and featured as a prominent design element.
The street facade is organized in vertical twisting columns to create an ever-changing pattern of opening and closing as light moves across and through the facades. As the viewer passes by the home, the façade creates a moire-like pattern that appears to be constantly in motion. Depending on one's location, the porous courtyard façade can appear open and welcoming or, closed and private. This allows glare-free daylight to penetrate into the building through glazed surfaces behind them, as well as creating a glow from within when the lights are on at night.
The design examines the tension between materials, form and experience. Of particular interest is the idea of transcending traditional craft and elevating humble materials without trying to make them into something other than what they really are. It is an attempt to find and reveal the extraordinary from within the ordinary.
Lipton Thayer House was commended in the Worldwide category of the Brick Awards 2019. To enter your project in this year's competition, click here