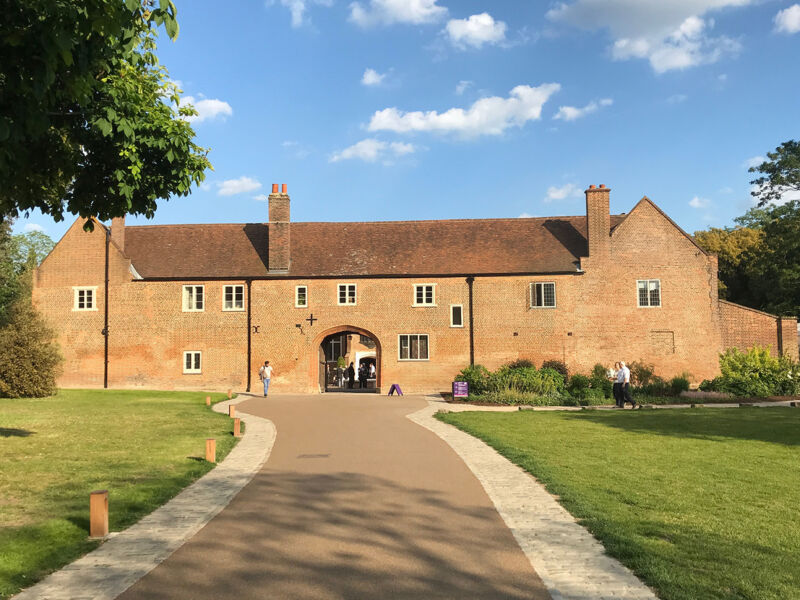 The £3.8 million HLF-funded restoration and renewal project at Fulham Palace focuses on the Tudor quadrangle, where extensive repair works to the brickwork have challenged conservation orthodoxies. Architecture practice Purcell worked with specialist brickwork contractor Sally Strachey Historic Conservation, through this rediscovery of traditional materials and techniques, commissioned by the Fulham Palace Trust.
Fulham Palace is an outstanding example of early Tudor (c1500) brickwork, with flamboyant diaperwork to the internal courtyard, accessed via a flattened arch framed by chamfered mouldings, indicating its high status. The brickwork was in poor condition, damaged by masonry bees, fixings for vegetation and unsympathetic alteration and repair in cementitious mortar and inappropriate bricks.
This presented the opportunity to rethink the presentation of the façades. Inspiration came from a surviving fragment of original Tudor brickwork at Hampton Court. To recreate this at Fulham, later cementitious pointing was removed with small hand tools to minimise damage.
Wherever possible bricks were reversed to maximise retention of original fabric. Where decay was too severe bricks were carefully cut-out and replaced with new, matching the originals in shape, form and manufacturing method.
Tudor bricks were made on site, moulded roughly and dried on the ground before being fired in temporary wood-fired clamps. Both 'common' bricks and glazed headers used for diaperwork, were reproduced by adding a slurry to previously-fired bricks and re-firing, using beechwood for fuel.
The bricks were then set in 'hot-mixed' lime mortar finished with a three-dimensional 'double-struck' joint, providing relief and defining the bricks. This, in combination with the qualities of the hot-mixed lime mortar celebrates the character of the brickwork and restores its integrity.