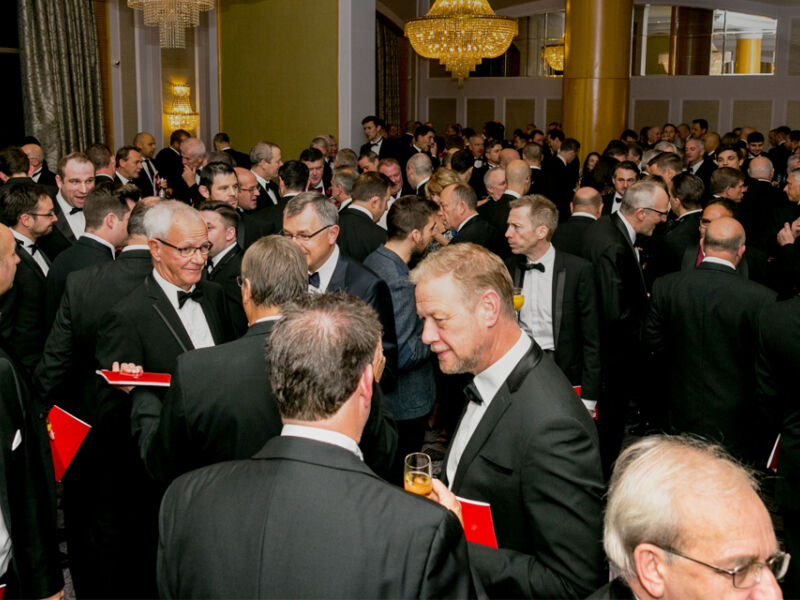 An electrifying atmosphere filled Park Lane's Hilton Hotel on Thursday 10thNovember as 600 architects, brick contractors, planners, trade associations and housebuilders arrived in anticipation of this year's Brick Awards.
The Brick Awards' 15 categories recognise excellence in brick design, architecture and brickwork across a broad spectrum of projects. On this, the event's 40thanniversary, expectations were high and a champagne reception readied guests for the lively black-tie event.
As guests settled at their tables, Keith Aldis, CEO of the Brick Development Association, welcomed the crowd and introduced Judging Panel Chair, Richard Lavington, of Maccreanor Lavington Architects. Richard spoke of the superb quality of projects considered by the panel, as well as the sheer diversity of interpretation and innovation this year's entries represent. Richard also spoke of the satisfaction that architects can take from seeing the craftsmanship of bricklayers bring their designs to life.
An emotive video by the Brick Awards' charity of the evening, Construction Youth Trust, provided the backdrop as dinner commenced. Guests heard of the valuable work the CYT does to encourage and facilitate young people entering the construction trades and professions within the built environment.
Michael Holmes, Chair of NaCSBA, followed with a passionate keynote speech about the opportunities presented by new 'Right to Build' legislation and the important role it will play in boosting UK housebuilding. He explained the legal duty for Local Planning Authorities in England to assess demand for building plots for custom and self-build homes via a demand register, in addition to a new duty on those same authorities to permission enough building plots to meet that demand. Michael suggested that 'The result of the Right to Build… will be a major increase in the number of owner commissioned custom and self-build homes.' Michael also spoke of the benefits this represents to individuals and the industry, such as addressing the issue of affordability, accelerated delivery times and contributing to increased sustainability.
This paved the way for Nick Knowles, TV presenter and this year's Brick Awards presenter, to take the stage and begin announcing shortlisted projects for each of the various categories.
As we have come to expect, the impressive selection of shortlisted work was met with intrigue and enthusiasm. As the credentials of each shortlisted project were announced, the category sponsors joined Nick on stage to reveal the winning projects. The ceremony concluded with the announcement of this year's Supreme Winner, Newport Street Gallery, to a surge of applause. To view the Supreme Winner's video, including interviews with Peter St John of Caruso St John Architects, and Tom McGuire of Grangewood Brickwork, the project's architects and brickwork contractors respectively, click here. The project used Northcot Brick, specifically Newport Light and Newport Dark.
Full list of winners:
Best Individual Housing Development: Courtyard House, London (Dallas Pierce Quintero Architects, using Ibstock bricks)
Best Small Housing Development: Foundry Mews (Project Orange) and Hindman's Yard (Foster Lomas), both in London, both using Wienerberger bricks.
Best Large Housing Development: Peabody, St John's Hill, London (Hawkins/Brown Architects, using Wienerberger bricks)
Best Large Housebuilder: Linden Homes.
Best Urban Regeneration Project: Block E West Hendon Masterplan, Hendon (Allies & Morrison, using Wienerberger bricks)
Best Commercial Building: 51 Hills Road, Cambridge (Gort Scott, using Coleford Brick & Tile).
Best Public Building: Newport Street Gallery, London (Caruso St John Architects, using Northcot Brick)
Best Education Building: Brentwood School Learning Resources Centre, Essex (Cottrell and Vermeulen, using Ibstock brick)
Best Refurbishment Project: New Loom House, London (Duggan Morris Architects using reclaimed brick).
Best Outdoor Space: Maggie's Centre, Manchester (Foster + Partners, using Ketley Brick)
Innovative Use of Brick and Clay: Harvey Nichols, Birmingham (Virgile and Partners using Ketley Brick)
Specialist Brickwork Contractor: Grangewood Brickwork Services
BDA Craftsmanship Award: Newport Street Gallery
Supreme Award: Newport Street Gallery
Architect's Choice Award (voted for by architects and architecture students): The Whitty Theatre, Berkshire (Van Heyningen and Haward Architects, using Wienerberger)
Keith Aldis, CEO of the Brick Development Association, spoke of the impressive selection of work submitted to the awards and added:
'We were reminded of how powerfully this annual event communicates the quality of our members' products, and the extraordinary feats of design and engineering to which they contribute.
'Thanks in particular are due to our sponsors. Without their continued support we would be unable to showcase what is essentially the very best of brick. Their investment makes a tangible difference to raising the profile not only of winning projects and shortlisted entries, but to the reputation of the brick manufacturing industry as a whole.
Sponsors included Ibstock, Wienerberger, Forterra, SIG construction accessories, ACS, Association of Brickwork Contractors, Ancon, Brickability, Carlton Brick, Catnic, Grayson, IG Masonry Support, IKO hyload, Michelmersh Brick Holdings PLC, NHBC and Wincanton.
The event continued into the small hours of Friday morning, with lively entertainment in the form of a live band, photo booth, DJ and magician.