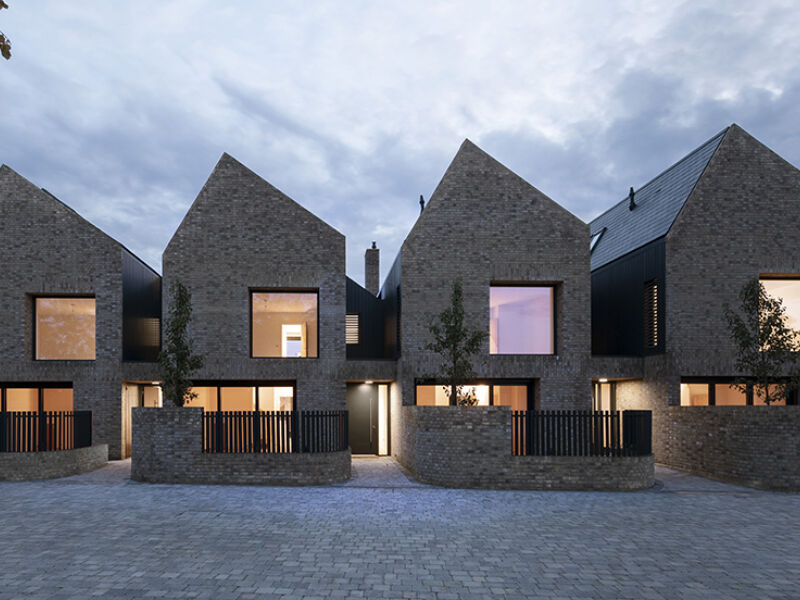 Woodside Mews is a small development of four three-storey houses on a secluded site in Leavesden, Hertfordshire. Designed by TAS Architects, the scheme is conceived as a contemporary take on the traditional terrace home. A stepped site plan maximises space and daylighting, as well as reducing perceived massing. Bold chimneys to the rear, create strong architectural forms and provide focal points for the open-plan kitchens, dining rooms and snug areas.
The client was keen to ensure that all the design intentions and detailing were thoroughly resolved and carried through to the construction phase to ensure the best result, explains the architect. This included selecting high-quality materials, such as brick. The project features prominent brickwork, notably on the gable ends and chimneys.
Chosen for its ability to give the houses character, the brick has a 'soft' handmade texture and features a multi-tone contrast within the blend. The hue and texture of the bricks are designed to enhance and be enhanced by the morning and evening sunlight falling across the gable ends. The brickwork also subtly relates to the muted and varied tones of the surrounding suburban context, seeking not to emulate but to sit comfortably within the built environment.
Further surface articulation is provided by a range of masonry details, including brick-clad window reveals, extended soldier courses at first-floor level, Flemish bond soffits, and hit-and-miss brickwork to the double-height living spaces. The latter creates a 'patchwork' of light streaming through and against the walls. A series of low, curved brick walls defines intimate front gardens that are shielded from the parking spaces.