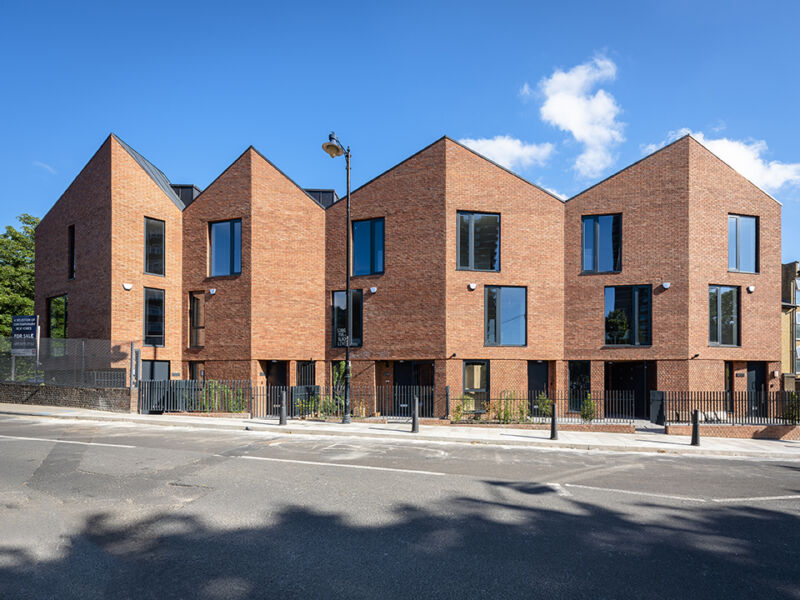 Situated opposite Victoria Park in east London, Old Ford Road is a three-storey residential scheme designed by pH+ Architects. The development, which comprises eight dwellings, is intended to evoke the language of wharf buildings sited alongside Hertford Union Canal, as well as the rhythm and mass of nearby Georgian terraces.
The plan incorporates both dual- and triple-aspect dwellings with views to the park and street. A garden, balconies and cockpit terraces set into the roof maximise outdoor space for residents. A 'folded' rear facade opens up and frames vistas along the canal, while also celebrating views over Victoria Park to the north. By contrast, the front facade responds to the more ordered rhythm of the fenestration of the conservation area opposite. Here, the folding planes provide defensible space, as well as recessed entrances to each dwelling.
Brick made by Wienerberger, were chosen for the facades in response to the local context and to evoke the industrial heritage of the canalside warehouse buildings and the colour of the stock brick and mortar are closely matched to give the impression of a 'cast' object, with entrances and balconies carved-out of a single, sculptural volume.
This concept drove much of the detail design with brick returns, brick-faced lintels and brick-faced soffits providing a homogenous masonry surface. Flashing details, eaves overhangs and rainwater pipes are reduced to a minimum or hidden from view. Glass balustrades on the upper floors ensure unobstructed views of the park, without spoiling the purity of the brick facade.
While the same brick is used throughout the project, the ground floor plinth employs a header bond in contrast with the stretcher bond used on the upper floors. This creates a subtle band on the street-facing facade, which helps to define the entrances and references the more dominant overhang alongside the canal.