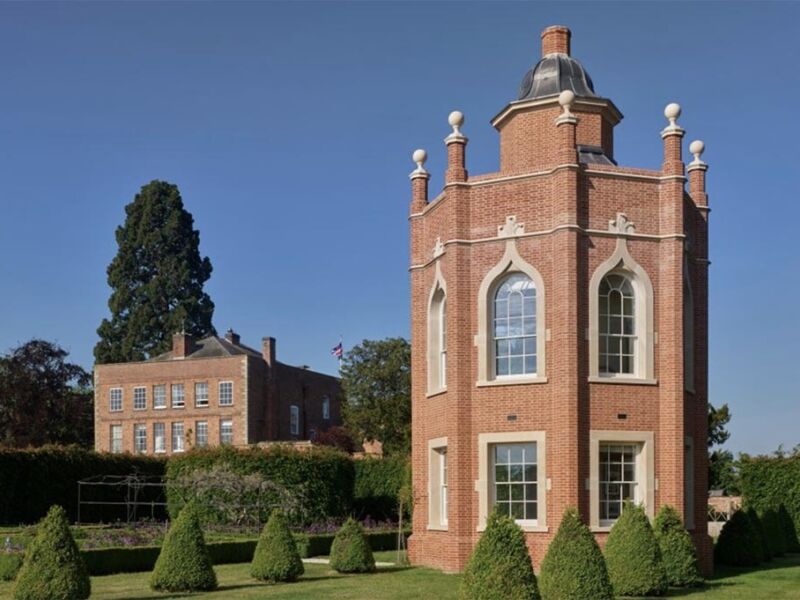 When is a folly, not a folly? Whilst aspects of one definition ('an ornamental building with no practical purpose built in a large garden') can be applied to describe Wolverton Hall Folly, it certainly contradicts the 'practical purpose' element with the most appealing of purposes. Wolverton Hall Folly is a retreat for contemplation, an office away from home, a place to entertain and somewhere to enjoy the views, sun and a good book. So, not really a folly at all!
Constructed in an octagonal design, using 25,000 clay bricks, the exquisite architecture was the vision of the owner, who took inspiration from the 16th Century banqueting house at Long Melford in Suffolk. The vision was safely invested in Architects, Quinlan Terry to make it a reality. Who better than Mr Terry, the leading classicist of his generation and a name synonymous with numerous country houses, to impose the grace and splendour deserved of such a project?
The decision was made to site the folly a few dozen steps from the main house in the beautiful walled garden, a convenient location for its functions as both an office and a room to entertain, as well as a place to enjoy the garden. Standing 46ft tall with a parapet, the stairs emerge through a turret onto the flat roof with views of the garden and far beyond. Ogee arches surround the upper floor windows and burst out as acanthus leaves, whilst the shaped buttresses on each of the eight corners end in ball finials against the skyline. All the rooms are flooded with light from sash windows.
Brick was really the only choice of material for this inspiring building in order to tie in with the existing 18th Century house, complement its environment and ensure that in years to come no one would suspect the modern age of the folly.
Michelmersh's clay brick factory at Charnwood had the ability to tailor-make products to exact specifications with a premium finish and this made its brick the ideal choice. The orange hues of the Henley Red brick offered the opportunity to introduce a handmade texture which was designed to the specific dimensions of 2", in keeping with the building's mix of Tudor and Georgian design. The brickwork was given wide mortar joints and complemented with stonework to give the façade a brightness.