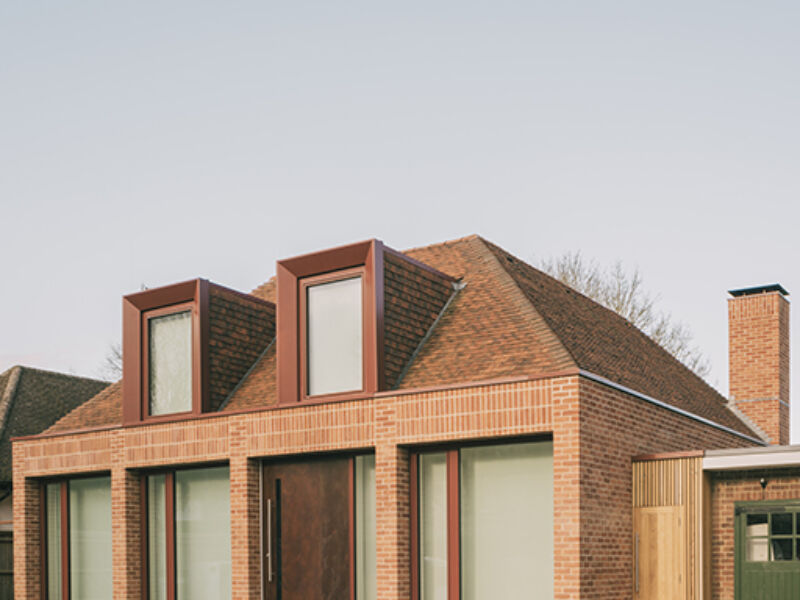 Westwood Road sees the replacement of an existing semi-detached bungalow into a new three-bedroom detached family home. The form of the building and character of the house is derived from its existing relationship with the neighbours, taking a contemporary approach on the current language of the existing streetscape.
The ground floorl provides for a kitchen/dining/living room overlooking the garden, a pantry, WC, play and study/guest bedroom. On the first floor there are 3 bedrooms and 2 bathrooms.
This project exemplifies the use of brick in the suburbs, it takes a contextual form and recreates it in a contemporary way using old and new methods of brick construction. The brick used is a handmade Charnwood Henley Red made by Michelmersh and the use of this alone lifts the quality of the design in comparison to its neighbours. In addition, the contemporary detailing lifts the quality to another level, with focus on stretcher and stack bonds, laying to create a four bay front that relates more to public architecture than domestic.
The rear of the property also plays on the strength of what one may perceive to be public realm architecture mixed with domestic architecture, mixing the two to create a home with presence but at the same time respects its neighbours. The interiors are minimal calm with polished concrete walls, brick walls and timber windows.
Westwood Road is a good example of how the architect, Napier Clarke Architects, approaches their designs. They take from the context and re-work with local forms and local materials, which is arguably the most sustainable way to design.
The building has a highly insulated external envelope with a low permeability, this combined with MVHR, an air source heat pump and underfloor heating, creates low impact sustainable dwelling.