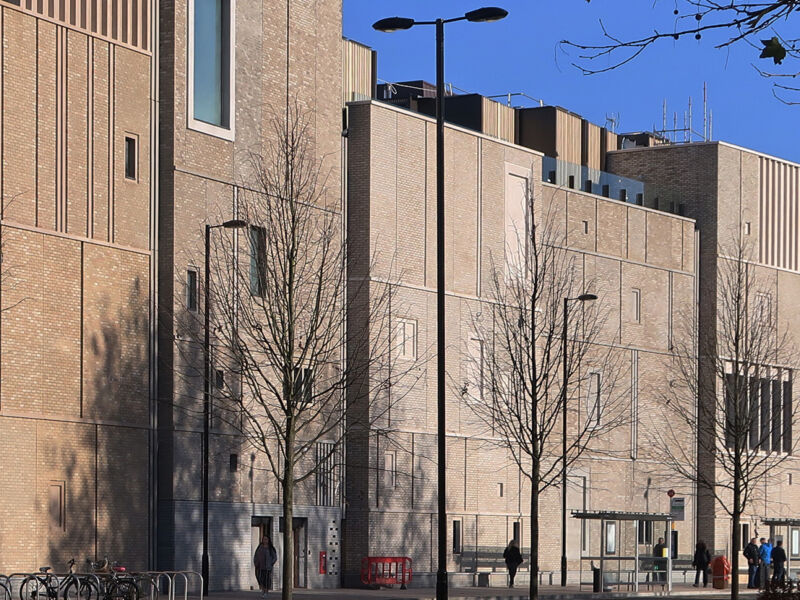 Panter Hudspith's contribution to the renewal and extension of Westgate shopping centre in Oxford incorporates an intriguing and engaging brickwork facade, conceived as a collage of textures and planes that tempers the scale of the development on its southerly side.
The overall £500m Westgate project – masterplanned and led by architect BDP, with individual blocks by Glenn Howells Architects, Allies & Morrison, Dixon Jones as well as Panter Hudspith, employed multiple brick types and sizes, using three bespoke brick blends. These were premixed offsite and delivered for the manufacture of precast panels as well as traditional handset laying. 100 types of brick-slip specials were used in a precastable form, totalling more than 200,000 units including almost 80,000 in the three bespoke blends.
Building 2 "draws on a reading of Oxford as a city of prime streets, set within a tight urban grain, in which many buildings that have challenged architectural conventions contribute to an overall homogeneity", says Panter Hudspith. It marks the edge of the current city centre, with views across the countryside. A scale analysis of Oxford colleges led to the proposition that the building should be secondary to the signature John Lewis store. But rather than turning its back to the street, with services and access corridors serving the shop fronts to the north, Panter Hudspith suggested that the long southerly facade should contribute to the townscape as a rich collage of discreet facades.
When it became apparent to the design team that the required brick facades would be made in precast panels, so their detailing became critical. Studies were made for masonry 'louvres' to accommodate servicing requirements while retaining the essence of masonry (and avoid metal louvres). Subtle variations in the brick tones, precast string courses to conceal horizontal panel joints and vertical recessed joints were employed, alongside real and false windows to suggest inhabitation.
The framented massing along Speedwell Street creates a fine-grain context in which the adjacent John Lewis store reads as the destination. The brick and precast facades incorporate extensive louvres that serve retail units and basement parking. Expressive string courses and vertical ribs conceal precast panel joints, while windows to service corridors, blank recesses and a built-in bench humanise the elevations. The brick was chosen in order to ensure that the individual facade bays had their own tone yet sat comfortably together as a whole. The brick was sorted into its constituent parts, such that there were three natural tones – buff, grey and light – to enhance the articulation, and each has an associated mortar and precast concrete components to match.