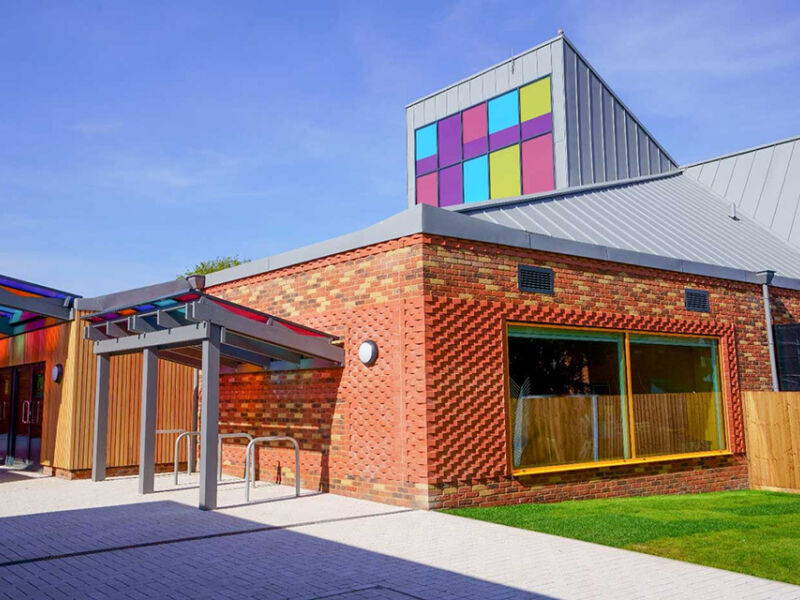 The Welcome Church has been an integral part of the community in Woking for over 140 years. However, as the existing structure required modernisation, and buildings to the rear of the site had fallen into a state of disrepair and no longer met the church's needs, the construction of a re-modelled chapel was commissioned.
Architects Plan A were briefed to create a new church that could support its growing congregation. Their design was strongly influenced by the existing building but also reflected the church's growing vim and confidence. However, great care was also taken not to impose on the smaller neighbouring houses. It was also vital to ensure that only low levels of noise escaped into
the surrounding streets. The decision to use bricks as the principle cladding material helps to reduce the building's visual impact so it sits comfortably in its setting. Inspired by an adjacent listed building that utilised a combination of buff and red bricks to create banding and arches, Plan A chose to include different patterns and features to provide texture and visual interest to the elevations. The use of coloured glazing also provides a unique feature, especially when illuminated with backlighting.
The Ibstock Cheddar Red Sawtooth Bricks and Southwark Multis play a key role in the overall aesthetic. The palette of techniques include horizontal banding with special-triangular bricks that tie together the few windows and doors, with infill panels of either a 70:30 blend of red and buff bricks, or a diamond pattern of red and buff bricks. The continuous eaves line of the contrasting standing-seam aluminium is also articulated with a band of special-triangular bricks, creating a deliberate transition between wall and roof. The building is further integrated into its landscape with the use of block-sett paving to the car park and pedestrian areas, and the creation of raised brick-planters that are essentially part of the building itself. To accentuate the bricks' tones and textures, Plan A experimented with different mixes and mortar colours. They found that a combination of two different types worked most effectively: a typical sand & cement mortar complemented the blended bricks in the main panels, whilst a red-coloured mortar used with the red special-triangular bricks created a monolithic appearance that helps to contrast the banding with the panels.
The final church was a collaborative effort inspired by a fantastic team of designers and other specialists. The choice of brick walls with a standing-seam aluminium roof was purposefully chosen for robustness and longevity. It is hoped that its appearance will evolve over time. It is also noteworthy that the £5 million project, which was funded entirely by the church, had strong support from the local community that it serves so well. Indeed, an impressive 1,200 guests attended when the completed church opened its door for the first time.