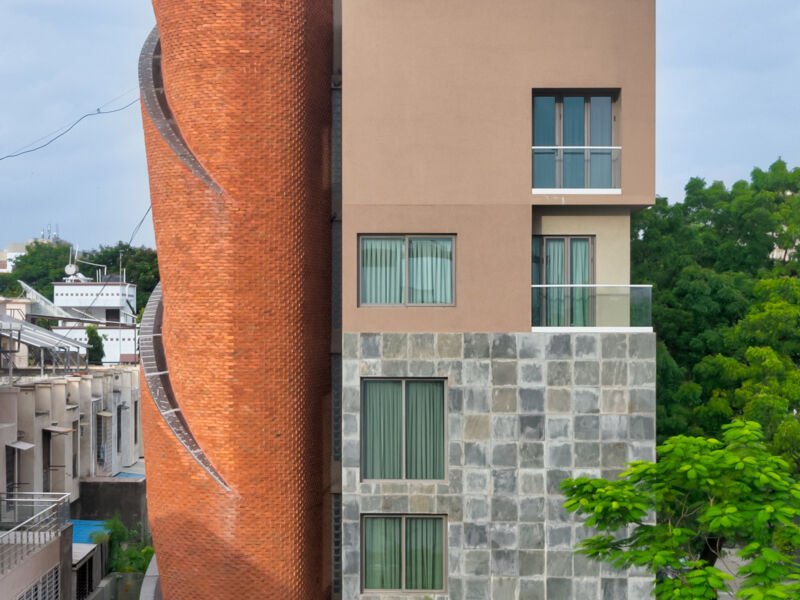 Lending it its name, "Warp House", the protagonist here is the iconic brick, twisting structure which encloses a staircase. Brief to block noise and vision while retaining natural light and ventilation the staircase block is conceived elegantly by slicing 3d curve wall.
With a bold play in massing, the house is constructed by juxtaposing curves and linear patterns and openings that are amusing to the eyes, conveying a unique aesthetic value, and promoting natural ventilation. Each floor is arranged in a way to enhance vertical interaction, encourage users to be more receptive to their surroundings, and stimulate a sense of awareness through textures and movement.
In accordance with the calming atmosphere of the surroundings, the internal spaces are ample, yet full of movement. The design team ensured the preservation of an existing Neem Tree on site and integrated it as an element of the final architectural design. Uniting the insides and outsides, continuing upward, the interior spaces connect the building, waiting to be discovered with a rewarding experience of the infinite vista. As one enters the structure, one is greeted by the soft sunlight through the fenestrations, complimented by coolness within the structure. The interiors are dominated by the dynamic nature of the spaces.
The staircase core's organic form can be seen emerging from the ground and flow into the skyline, following steady curved dips and peaks. Each level flows into another along curved lines, leading into a seamless space held by the tower. The observer begins his journey along the curved and patterned brick structure balanced by its robust counterpart, thus drawing him into a dramatic composition of light and shadows that the aperture creates.
By not making the staircase merely a tool to take you up a floor, the Warp house expresses a journey that the architect wants you to travel. Acting as a focal point against rectilinear massing, the staircase tower's bold curves and red soil clay brick textured envelope symbolize dynamicity and fluidity while serving as a functional element as well as imparting the building its unique identity.
The site is situated in Athwa zone, Surat, Gujarat. It is in residential zone offering an exquisite view of the river 'Tapi' and the neighbourhood acts as a contrasting canvas which highlights the stark material palette and the form.
The challenge with this house was to create separate private zones and stack them vertically instead of on the ground level, all the while ensuring convenient circulation.