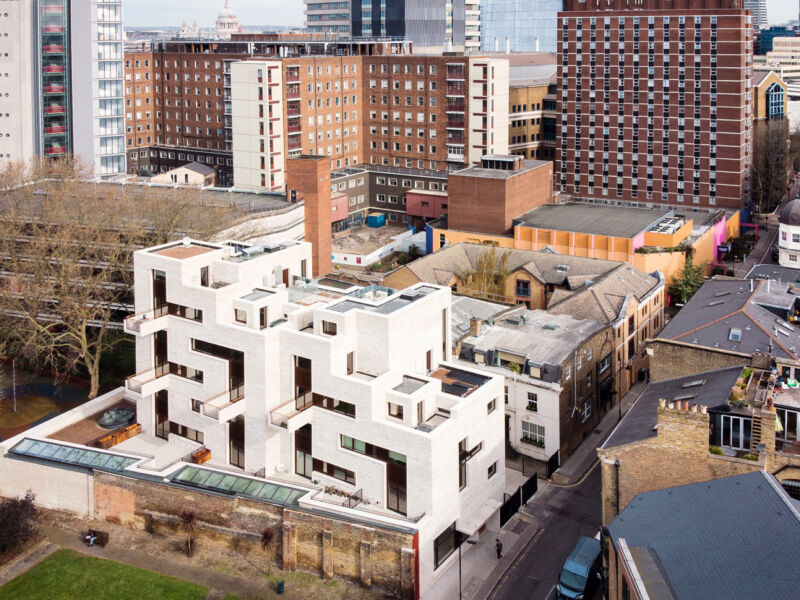 Stirling Prize-winning architect Allford Hall Monaghan Morris has completed a mixed-use, mid-rise building in Southwark, south London, following a longstanding collaboration with innovative developer Solidspace.
Entirely clad in light brickwork, 81-87 Weston Street provides eight multi-level apartments above a ground-floor commercial space. The site, close to London Bridge, was originally occupied by an old warehouse building that was previously the Solidspace office. The rear brick wall of the warehouse, which borders Guy Street Park to the south, has been preserved and integrated into the new building.
The external appearance aims to reflect Southwark's historic fabric while expressing the novel internal arrangement. Led by architect-developer Roger Zogolovitch, Solidspace's residential projects often occupy infill sites and arrange the spaces for eating, living and working on half-levels around a double-height space. At Weston Street the two- and three-bedroom apartments form two staggered blocks, with a stair and lift core within each cluster. The mass steps up and away from adjacent buildings to preserve rights of light. The interconnected volumes are expressed externally as large L- or T-shaped openings that permit glimpses of the split-level spaces within. The windows are set into deep brick reveals, while terraces and balconies cantilever out from the elevation.
The envelope is a skin of hand-finished bricks in a light creamy-grey, which reflects the colour and texture of the structural concrete shell behind. The bricks, with the anodised aluminium windows, are intended to reference the warehouse aesthetic of adjacent buildings.
While every apartment differs, all are split across several floors and centred around an open-plan, double-height space. Living, kitchen, dining and study areas are placed within this central volume, separated by stairs and not doors, with more cellular bedrooms above, below or adjacent. The apartments interlock vertically and horizontally to allow for both two- and three-bedroom layouts. Living areas are on the south side, with access to a roof terrace or balcony, and incorporate a dedicated area for homeworking.
The ground-floor office space consists of a single open-plan room, which covers the entire southern part of the building footprint, plus smaller meeting room and ancillary spaces tucked into the north side between the apartment cores. Like the apartments, the office is self-finished internally in board-marked concrete, while to the west end, a large circular hole is punched into the soffit, enhancing daylight and views to the tree canopy of the park.