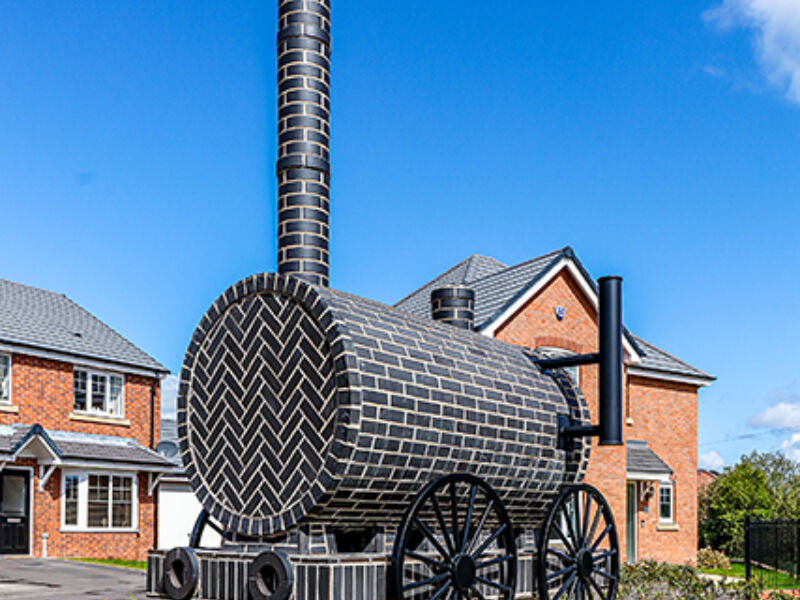 Standing pride of place in the Catesby View Phase III development is a commemorative work of literal art: a brick sculpture of Agenoria, an early nineteenth century train. The sculpture celebrates the train's regular journeys from the local colliery to the Ibstock brick works that once stood on the site. Indeed, the collection of 1, 2, 3, and 4 bedroom houses that comprise Catesby View were made from Ibstock's bricks.
Commissioned by Taylor Wimpey in collaboration with Ibstock, the sculpture is a simplified 3D interpretation of the Foster, Rastrict and Company train, which travelled on the Earl of Dudley's Shutt End Colliery Railway in Kingswinford from 1829 until 1864.
The vision of Midlands' sculptor Robot Cossey, the train stands at approximately 4 metres tall and is close to the size of the original Agenoria. The project took 4-5 months to complete and beautifully captures the spirit of the train and the times in which it operated.
Because the sculpture would be too heavy to make entirely from brick, the train was constructed around a manhole cylinder structure supported by metals rods. It was then clad in brick slips. Meanwhile, the tall and thin chimney utilises quarter round specially made bricks. The wheels and the pistons that protrude from each side consist of powder coated steel.
Cossey selected Staffordshire Slate Blue bricks for the design to create a shiny and somewhat metallic finish – a nod to Agenoria itself – whilst ensuring that the sculpture is still very obviously made from brick. After all, the site's historic links to Ibstock were fundamental to the artistic concept.
The front of the sculpture employs herringbone detailing, in recognition of Herringbone Lane (the road on which the development is located). Meanwhile, the back utilises a weave with slits near the top to accommodate bat boxes. This underlines the sculpture's rural setting as Catesby view overlooks wonderful unspoilt greenbelt countryside