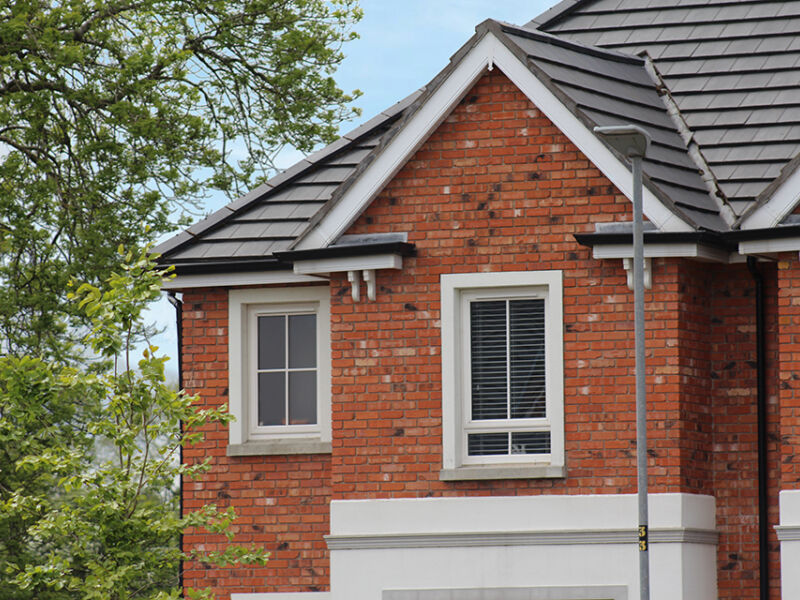 This is the story of a visionary developer Glenoak Limited, and its two co-directors, David Stewart and Allen Robinson, and their search for an aesthetic that would become synonymous with them and them only. Their vision was to find a brick unique to them that would work across multiple sites with the versatility to complement a range of developments, from starter homes to holiday homes and high-end housing.
To create this unique identity was quite the journey and required a significant amount of effort and thought from Glenoak and their long-term partner Brick and Stone, they were keen to find a brick or brick blend akin to that of the local vernacular, 'burnt red' Belfast brick made from the rich clay, for which Belfast had and still enjoys high demand. It's part of the culture in Northern Ireland but Glenoak wanted to tweak the aesthetic slightly and create something that was special. After many months of sampling a vast array of products from across Europe, they couldn't find what we were looking for. The team then discovered the key, a hidden gem, which was a small row of terraced houses in Belfast using an old Belfast reclaimed brick, and the lock was opened.
Brick and Stone surveyed the site and made sense of the look and identity that needed to be created. They began working alongside Dale Moss of Northcot Brick (also responsible for the bricks on much of the Battersea Power Station redevelopment and Brick Awards Supreme Winner, Radley College) to bring together a blend bespoke to Glenoak, that celebrated the existing Belfast vernacular. The process of fine-tuning the blend was exhaustive but eventually, the aesthetic that matched their vision was realised.
The base colour of orange-red with intermittent black and white dusting provided that unique look that represented inner-city Belfast of the early 1900s. Next up was thinking of a name for the blend, Foxton. A little help came in the form of an unlikely friend; given the presence of a fox on the land we intended to develop; the rest is history.
It's an incredible story of commitment from dedicated individuals within the brick industry to find the unique desired aesthetic. The development uses a timeless blend that has become synonymous with Glenoak, and has been used on multiple sites, in multiple disciplines across Northern Ireland.