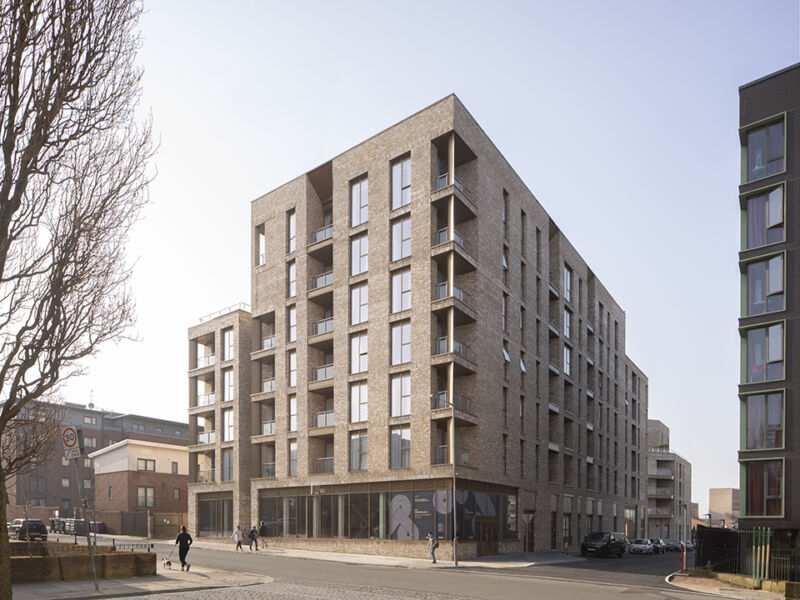 Tim Groom Architects were commissioned to design a residential development on a connective site between Grenville Street South and Upper Pitt Street in the Ropewalks area, Liverpool. A key feature of the site is a historic ventilation tower. The tower is one of three monumental ventilation shafts still visible along the line of the Wapping Tunnel which runs below the site.
A new road is provided as part of the scheme reconnecting Cornwallis Street providing another link between the Ropewalks area to the Baltic Triangle. The building is then arranged as two elements wrapping around the ventilation tower and redefining the street edges.
The scheme provides 120 apartments within the massing of the two blocks which are carved and stepped along the line of the Wapping Tunnel to allow views to the ventilation tower and even the Cathedral beyond. A glass link connects the two maintaining views through. A commercial unit provides activity to Grenville Street South and parking is provided to the rear off Upper Pitt Street.
High-quality brickwork with a strong emphasis on detail creates architecture that can stand the test of time. The ambition for the project was to use a simple, restrained palette of materials that are well-detailed, to achieve a building that will age well, and make a positive and lasting contribution to the fabric of the city.
A brickwork language is developed through proportion and detailing, to add texture and relief to the elevations. The choice of Wienerberger brick was important here, to achieve a rich texture and a refined colour palette to the façade. Soldier course banding and recesses in the building's massing and form provide detail and interest.