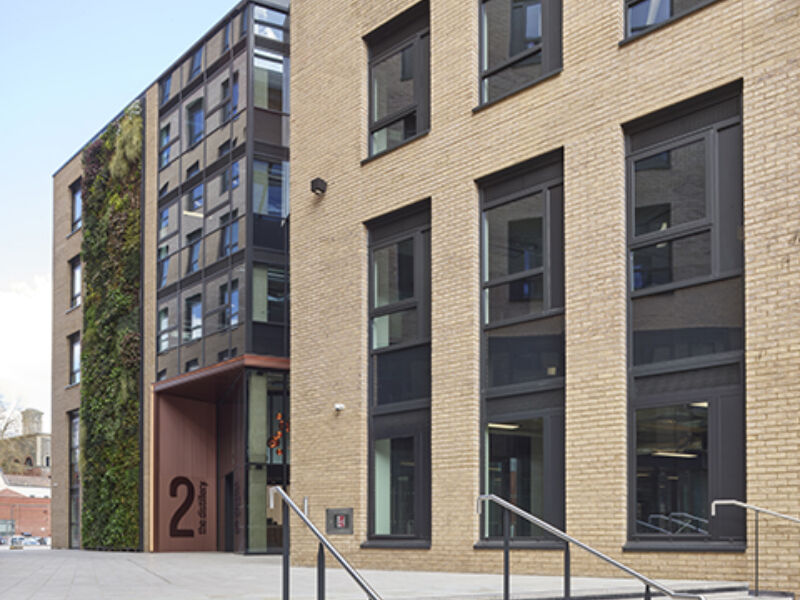 During the 1970s, this central Bristol site was cleared to make way for the Guardian Royal Exchange office, demolished in 2010.
Plot 2, occupying 0.32 hectares within the overall 1.3 hectare development, hosts the first phase of the masterplan, a 90,000sqft commercial office development. Now named 'The Distillery', Plot 2 references the site's heritage as home to the Bristol Distillery Company from 1880 until 1940.
The vision was to create the best workplace for people to flourish. A fully flexible design blurs the edges of inside and outside, with people able to move freely through the cluster of three buildings totalling 93,000sqft of net space.
The theme is connection and connectivity, encouraging interaction and cross-pollination of ideas and relationships across the floors, with the link bridge designed to connect people physically and metaphorically. There are three key themes:
Connect: there are many different opportunities for people to interact, crossover and collaborate such as on the central feature staircase, link bridges, and in the amenity spaces.
Dynamic: the site encourages users to flow through and around the buildings both vertically and horizontally.
Vibrant: the uniform street front facades offer a contrast to the internal heart with its multi-sensory full height green wall, copper clad reception and circulation area. This covered outdoor space encourages people to take a breath of fresh air and relax.
The buildings have been designed to respond to the character of the local area. It has been designed to produce a contemporary appearance which is felt to be appropriate in this area. The aim is to use materials such as brickwork to help integrate the appearance into the local context. Instead of matching the new development with the existing surrounding brickwork colours, form and texture which can create a pastiche aesthetic, the aim is to use the invert of the existing. Wienerberger's Anglesey Weathered Buff, a creased soft mud facing brick with buff and grey hues, fitted the design specification perfectly.
The Distillery is targeting BREEAM Excellent, EPC A and Fitwel accreditation. The building's ability to address occupier wellness, health and wellbeing has been key throughout the design process.
This design champions the improvement of occupant wellbeing, employee performance, retention and recruitment.