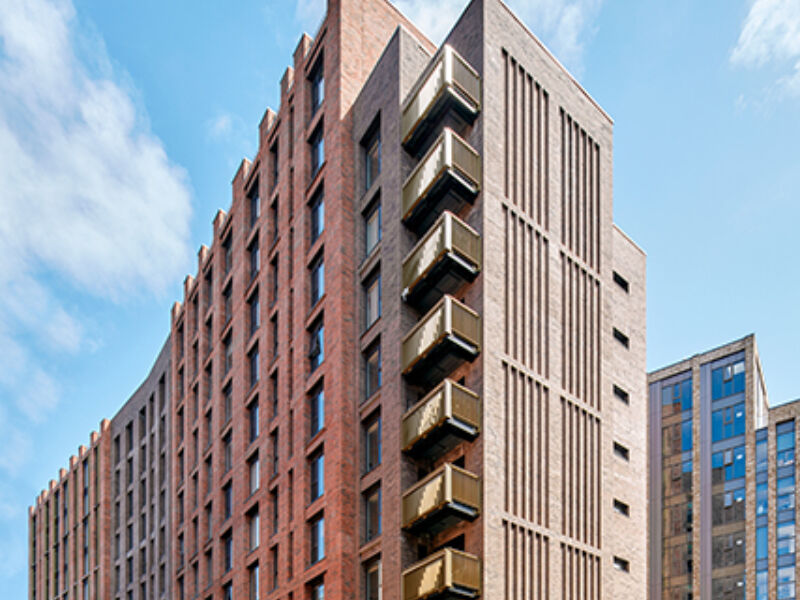 The Address is situated on the corner of Seel Street and David Lewis Street in the Ropewalks area of Liverpool. It is the final element in the regeneration of Wolstenholme Square and contributes to the wider Ropewalks regeneration plan.
Built for the rental market, it is 11 storeys high and contains 32 studio, 102 one-bedroomed and 66 two-bedroomed apartments; 90 cycle spaces; concierge services; gym; entrance lobby/lounge; and a rooftop terrace with views looking out over the city. Three commercial units on the ground floor contribute an engaging and vibrant streetscape to both sides of its corner location.
Inspiration for the building's design comes from the nearby industrial buildings, brought up to date with innovative use of contemporary materials. Farmstead Antique, a red brick with a variegated colouring and textured finish from Forterra's Butterley range, helps the building seamlessly meld into the Ropewalks area, providing a dynamic relationship to a multitude of buildings. Simple but expressive detailing was used with a language of brick piers, horizontal banding and deep window reveals.
A contrasting grey brick was chosen to provide a connection to the more recent buildings whilst reducing the overall mass of the new development, creating an alternative language. Contrasting detailing was used with punched windows ordered in a way to ensure the language of piers and horizontal banding was still legible and provided a cohesive design approach.
The challenge of developing a large building in a confined area was overcome with thoughtful detailing. For example, where it was not possible to provide glazing or windows to one of the street elevations, rather than provide a blank elevation it was decided to enliven the façade and provide relief by using a special two-storey brick detail. Stacked headers were used along with recessed bricks to create delicate brick fins which required a bespoke cut brick support system at intermediate floors.