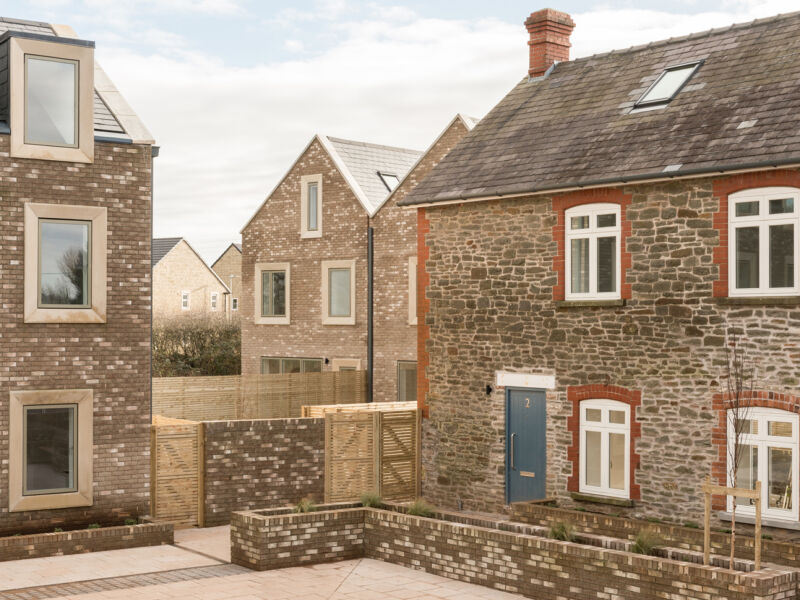 Temple Gardens is a brownfield development of nine homes and a suite of guest rooms for an existing public house at Temple Cloud, Somerset, designed by architect Archio. The new buildings are designed so as to respond to their historic Somerset setting. They are distinctly contemporary in character but employ materials and forms that resonate with the local vernacular, in places quietly 'completing' the village backdrop and at others confidently imposing their presence.
The project is intended to reinvigorate the grade-two-listed Temple Inn, which had ceased business several years previously. Surrounded by scrubland, it had become the 'missing heart' of the small Somerset village. Archio was commissioned by Bath & Stratford Homes to deliver houses that would facilitate the renovation and regeneration of the pub to help secure its long-term future.
Three new buildings join the existing pub and refurbished barn house, defined by brick walls, pitched roofs and robust window surrounds. The nine new homes and 10 guest rooms for the pub occupy both new and old buildings, with terrace housing, a guest room building, and the original barn organised around a central courtyard that provides a focal point for the residents.
The site layout responds to the existing village grain, while the new interventions draw on features of the local area, such as accented stone window surrounds, and asymmetric placement of windows within the brickwork facades. The materials were selected and sampled to reference the context and to complement the Temple Inn and existing barn. The group of buildings encloses shared public spaces, while allowing views towards the village beyond.