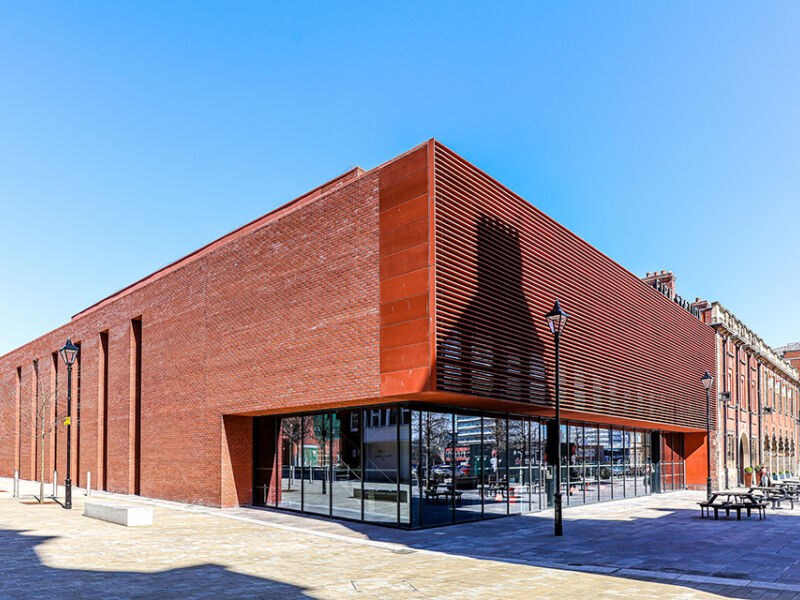 The Fire Station Auditorium is a brand-new 1,670m2 live music and performance venue based in the heart of Sunderland. Built on a former car park, it was developed by the Music, Arts and Culture Trust as part of a broader effort to re-establish the area as the cultural heart and soul of the city.
The master plan for this 'Music and Cultural Quarter' is also built around two refurbished pubs and the attached Fire Station, which was also recently renovated to create a new eatery, dance centre and exhibition space. The auditorium's glazed foyer is actually designed as an extension of the ground floor public space within the fire station. The auditorium and fire station also form a continuous façade to the public square.
Designed by Flanagan Lawrence, the building's form is simple, controlled, and creates a calm backdrop to the public face. There is a glazed frontage, which provides presence and visibility, while the highest point of the new building is just below the original fire station's cornice.
Above the glazed foyer, the auditorium is clad in terracotta brise soleil with scratched edges. This creates a monolithic aesthetic that matches the colour and tone of the red brickwork of the fire station. Views through the terracotta to the interior of the foyer reveal the form of the brick auditorium within.
Extensive use of red brickwork on the rectangular external form is warm in palette and complements the urban context. Many of the external materials, included the brick and stained plywood, continue inside the building. The bricks chosen for the scheme were Ibstock's Dorset Red Stock, an attractive sand-faced brick that provides a red, light textured façade.
The red-bricked blocked west elevation to Garden Place and the listed Empire Theatre are also carved with a series of simple vertical cuts. These reveal windows and entrances with the box of the auditorium projecting above. The sculptural quality of the brick architecture continues around the building to the outdoor stage, which forms a proscenium as the focal point of the Parade Ground.
The design also capitalises on the surrounding public open space. The Parade Ground to the rear of the Fire Station can be opened up to the public. There is also room outside for an outdoor stage, which allows the venue to host multiple performances simultaneously.
With a construction cost of £11 million, the new building is so much more than simply a gig venue. It also serves the community and is a fantastic partner to the nearby restaurants, bars, drama and dance spaces. Inside, the building caters for 500 people seated or 800 people standing. It therefore addresses the city's need for good-sized specialist music venues and is becoming the catalyst for cultural change that the Music, Arts and Culture Trust always envisaged.