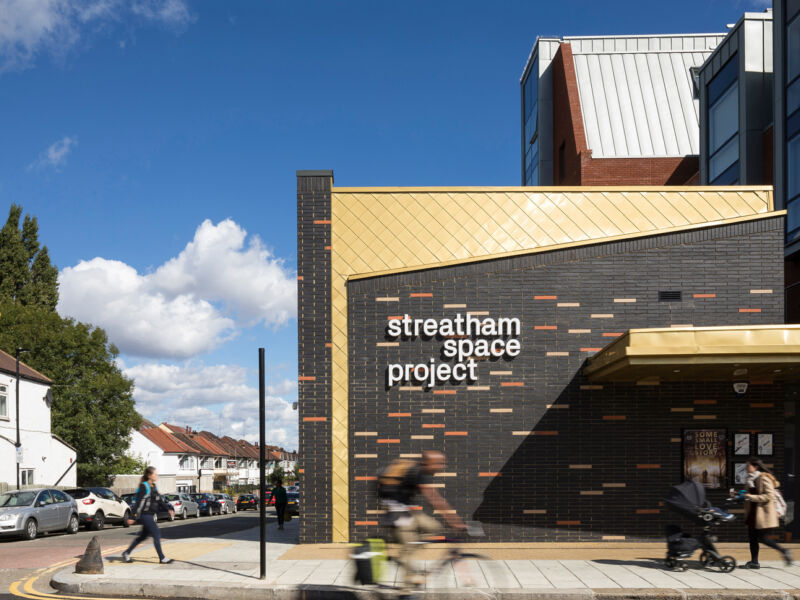 Clad in a striking facade of linear brickwork, the Streatham Space Project is a new 120-seat theatre and arts centre in south London. Delivered through a Section 106 Agreement as part of London Square's mixed-use Streatham Hill development, the project is designed by David Hughes of MDR Associates.
Due to the constraints of the construction programme designs were first developed for a basic shell and auditorium box for a simple theatre and arts centre. The fit-out design and details were to be developed with the chosen operator, after the main building was completed. The developer was contracted to finance the fit-out of the space, and the chosen operator would operate the venue at a peppercorn rent for 25 years. Working with Lambeth Council, London Square sought an operator with a clear vision, local knowledge and passion. Streatham Space Project, a group comprising eight young actors and theatre-makers from the area, satisfied the criteria and won the bid. Streatham Space Project's vision was to open and operate a space that was welcoming to all and was firmly rooted in the community. That excitement, energy and affiliation with the local community was hugely attractive to the design and development team.
The building is on a single level and encloses a total floor area of 500 square metres, including a 140 square metre theatre box, set apart from the residential accommodation above. With a capacity of 120 seats, the auditorium is fully flexible, with a variety of seating and staging configurations. The building also contains rehearsal and multi-use spaces, a cafe bar, dressing rooms and an office.
Most of the accommodation is tucked beneath the residential building, but the auditorium sits outside its footprint, and this suggested to the architects that the theatre box should contrast with the red brick, 'residential' aesthetic of the main development. The idea of a box within a box was developed, with gold shingle cladding seemingly wrapped in brickwork. The theatre box is clad in linear black bricks with random feature bricks and the 'inner skin' of gold shingles with a floating gold canopy to mark the entrance. Tall windows are provided (with black out shutters) to allow sufficient daylight for a wide range of community uses.