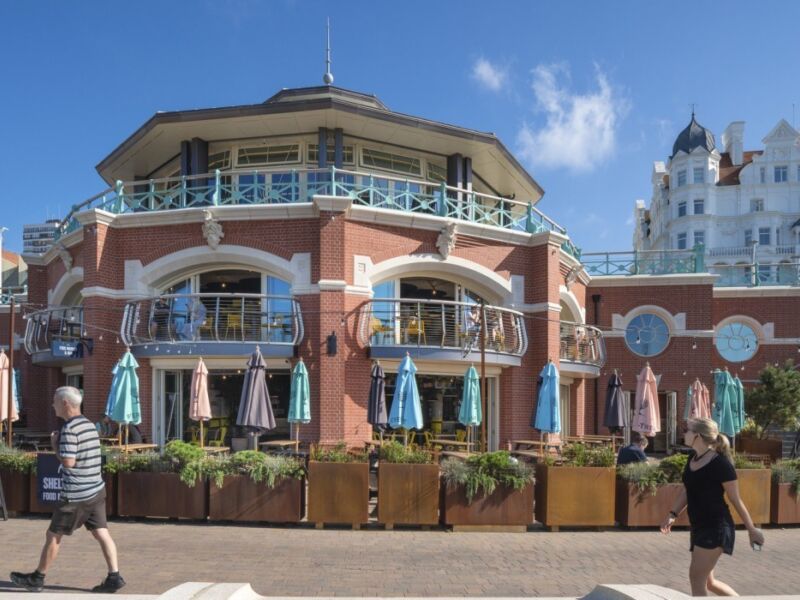 Shelter Hall has been a prominent feature of Brighton's famous seafront since the 1880s. The original building, with portions of the features grade II-listed, was a key landmark near the main public street that connects to the railway station. It was also a key landmark structurally, as it supported both the seafront road and the promenade.
Sadly, however, in 2013 the original building was found to have serious structural weaknesses. Works were immediately carried out to prevent it from collapsing. However, the decision was ultimately taken to replace the structure entirely with a new and enhanced building.
The construction of this new Shelter Hall became a key part of Brighton and Hove City Council's high-profile plans for the restoration and regeneration of the seafront. Protected by a new sea wall and public walkway, the building is larger than the original and has been brought forward several meters closer to the sea to double the commercial space available. The main structure is two storeys high and includes a partial mezzanine floor, a rotunda on the upper prom, and a roof terrace.
Designed by RH Partnership Architects, the new building is a fascinating combination of civil engineering, new build, conservation, restoration, and re-interpretation. Aesthetically it embraces the architecture of the original building and the heritage of the city's seafront whilst reflecting its modern direction.
The construction required multiple specialist skills, including the bricklaying talents of experienced masons who carefully crafted the building's distinctive imperial double-English bond. The selection of Ibstock's Cheddar Red bricks provided a bold aesthetic that complements the seafront's Victorian vernacular whilst underlining the civil engineering nature of the project. The robust red tone of the bricks, which is further brought to life by 7mm lime mortar joints, conveys a sense of solidity and longevity.
The elevations are constructed from a combination of machine-made and handmade bricks of a precise uniform size. There are up to 42 specials with corner bricks and tapered bricks that all blend beautifully with attractive pre-cast stone masonry. There is also an abundance of unique detailing around the door frames and other openings, with lovely combinations of long stretcher bricks and header bricks.
Funded to the tune of £19m by government grants and the local council, including a £9 million investment award from the Department for Transport's Highways Maintenance Challenge Fund, the new Shelter Hall provides spectacular views of Brighton seafront and will attract millions of visitors in the coming years. It is a fine building that befits its location and enriches the seafront experience for all.