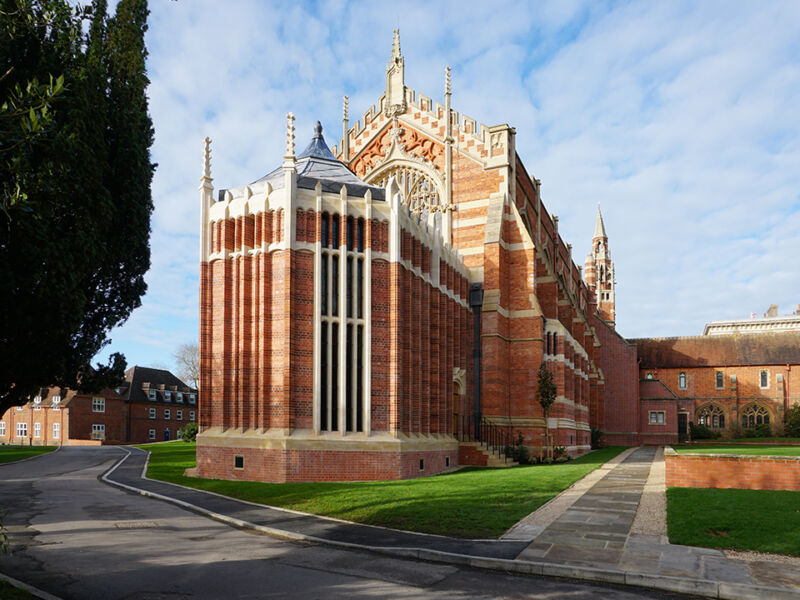 Radley College, a private school in Oxfordshire, required a sympathetic extension to their school chapel. Purcell Architect's Oxford studio designed a series of localised extensions. Central to the design was the introduction of a glorious new octagonal Sanctuary at the east end of the Chapel. The north and south apses were also expanded, to provide extra raised seating.
Northcot Brick, the appointed brick supplier, were able to exactly match the bricks to the original 1894 chapel. OG Stonemasonry were appointed to lay the brickwork and manufacture and install the stonework.
The architectural detailing of the extension entailed intricate geometry of the brick and stonework facades. Northcot Brick worked closely with the specialist subcontractor OG Stonemasonry to create three bespoke brick blends in imperial sizes that matched the colour and texture of the existing Chapel, both internally and externally.
The design team decided to compliment the original chapel with a highly detailed design consisting of multiple brick specials molded to intricate detail. The main east window had to be propped to form the opening into the new Sanctuary. Likewise, the new apse openings were propped, and steel supports installed.
Then, OG Stonemasonry had to set out the bonding of the brickwork to the apses to ensure the specials fitted perfectly, with minimal cutting. The plinth brickwork was multi-faceted and stepped back several times using a stone plinth. A molded stooled stone cill was installed to form the setting out for the brick piers which continued up to window level and formed window jambs. These were a huge challenge as they were only a 100mm wide with minimal tolerances. For structural stability, the bricks were drilled out and a threaded bar was installed through the jambs and fixed into the stone head and cill.
On the Sanctuary extension a five-sided brick plinth was constructed incorporating a large, stooled stone plinth which formed the base for the brick piers. Multiple attached piers of different profiles ran up the full height of the building. The larger of the piers were a huge challenge to manufacture with minimal tolerances. The brick piers had to be perfectly plumb to enable them to form the springing points for stone arches above.
Internally molded brick piers arose to form the springing points for the three extensive stone arches which formed the Ante Sanctuary. These had to be precise in their manufacture and construction as they had to seamlessly blend into the stone profile of the arches. The internal windows were chamfered brick reveals with brick arches over.
Northcot brick had to match three distinct types of brick to match the original. The external wall comprised bands of machine-made smooth and handmade textured blend with the internal apse blend to match internally.