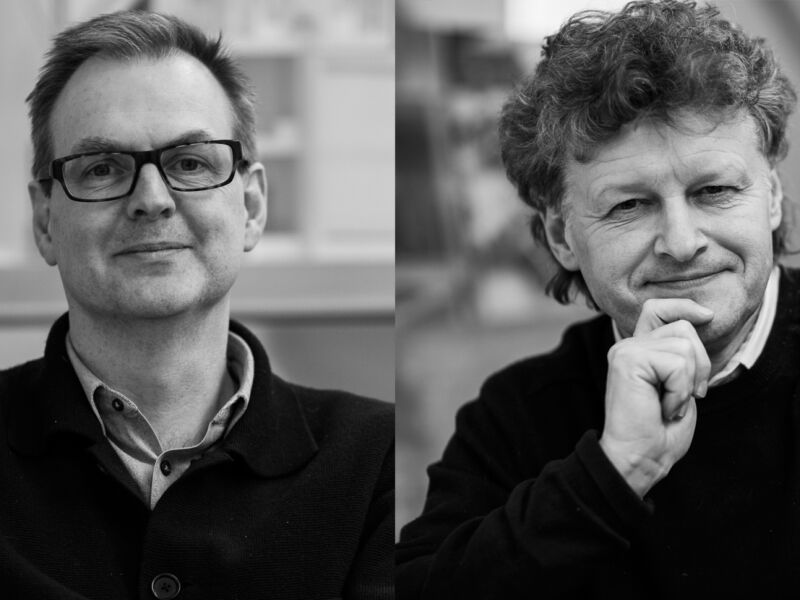 When Stephen Proctor and Andrew Matthews first set up in practice in the late 1980s they tended to design few buildings in brick. Then they favoured render and timber, but experience has shown that these materials need regular maintenance to uphold their appearance. However, those brick buildings they did complete early in their career – such as Ropemakers Field, a row of terrace houses in Limehouse where the use of brick was contextually driven – have stood the test of time.
Proctor and Matthews worked with Ralph Erskine on the Greenwich Millennium Village (2000-05) and while they were expected by the developer to deliver without using wet trades and to maximise prefabrication, Erskine insisted on using brick. Stephen Proctor relates that Erskine "saw using local labour and craftsmanship as part of that sustainable agenda, whereas we were very much thinking about prefabrication, lightweight construction and low embodied energy". As exemplified in the Aula Magna building at Stockholm University, Erskine was splitting bricks, using their textural quality and different brick colours to provide a richness to the architecture, and manipulate the scale of relatively big buildings to make them more domestic.
Since that time Proctor and Matthews have completed many brick buildings. They have always had a fascination for the Arts & Crafts Movement buildings' use of brick as a warm, domestic material, such as at Philip Webb's Red House for William Morris (1860). Proctor is a member of the Art Workers' Guild. They are also inspired by Aalto's and Utzon's work with brick, and recent civic projects such as Herzog & de Meuron's Blavatnik Building at Tate Modern and O'Donnell & Tuomey's Saw Hee Hock student centre at the LSE. Matthews says that the public perceives that brick has a permanence about it, and that is psychologically important. "How do you deal with the government's drive for prefabrication without the results looking like temporary buildings? How do you bring the qualities of brick and the advantages of prefabrication together? That's quite an exciting thing to be thinking about."
At Abode at Great Kneighton, the new development south of Cambridge, brick slips are used with cast concrete lintels. On a project in Sheffield they are using cut brick, like a brick slip but deeper. Where they can't get bricklayers to lay it, it's being adhered to panels to create a pattern. Stephen Proctor says: "We might think, as designers, that pulling a brick out and making a nice texture would cost the same to lay as brick that's just flush, but in practice it doesn't." He says that this can apply even to traditional bonds, such as English garden wall bond – stretcher bond is king. According to Matthews the skill base is within small firms, not the big contractors. Both he and Proctor feel that that brick industry should be pushing for greater craftsmanship in brick, because the demand from architects and clients is there.
"We see the reinvention of how brick is used in contemporary domestic architecture as quite an important, British thing." There are themes that they are developing in Proctor and Matthews' work all the time: scale, the augmentation of the facade, the articulation of entrance and threshold, how you put a hole in a wall. They view the repetitive punched-out window as an expression of a procurement methodology that is about simplifying the way things are built but is not necessarily about the augmentation of a domestic environment or the enrichment of the civic quality of the city. While a terrace in stretcher bond looks like one big building, historically openings have been augmented: Edwardian terraces have rubbed brick arches and columned brickwork. At Hargood Close, a supported housing scheme in Colchester, the practical problem of the vulnerability of the residents is disguised with a solution to the elevation. Rather than use balustrades, perforated brick panels ventilate the walkway, interspersed with full-height glazing.
The practice's use of brickwork has developed with its interest in the articulation of thresholds; with the Great Kneighton scheme and with Station Grove in Wembley, a social housing project that again uses textured brick to manipulate scale: horizontal banding at each floor level contrasts with infill panels of dark split brick bonding. At Chapter House in Lichfield ribbed brickwork, which became known as corduroy bond in their office, changes colour as it rises up the building. Proctor and Matthews like the slightly narrower, 50mm gauge bricks, but combining them with 65mm bricks was something of a challenge. Residents have written in saying how much they appreciate the quality of the brickwork, the planners are pleased with its crafted quality, and it has been shortlisted for the AJ Architecture Awards' Housing Project of the Year.
Proctor and Matthews considers that over the last 20 years the brick industry has got better at helping architects with unusual details. At Horsted Park, the brick manufacturer's technical advice helped them achieve a detail with a 100mm projection that ordinarily would have been rejected by the NHBC. "It would be interesting to see the industry come out with more of that, particularly how their brickwork could be prefabricated, so textured brickwork could be produced in a factory in controlled conditions. There's just as much craft in doing that as on a building site.