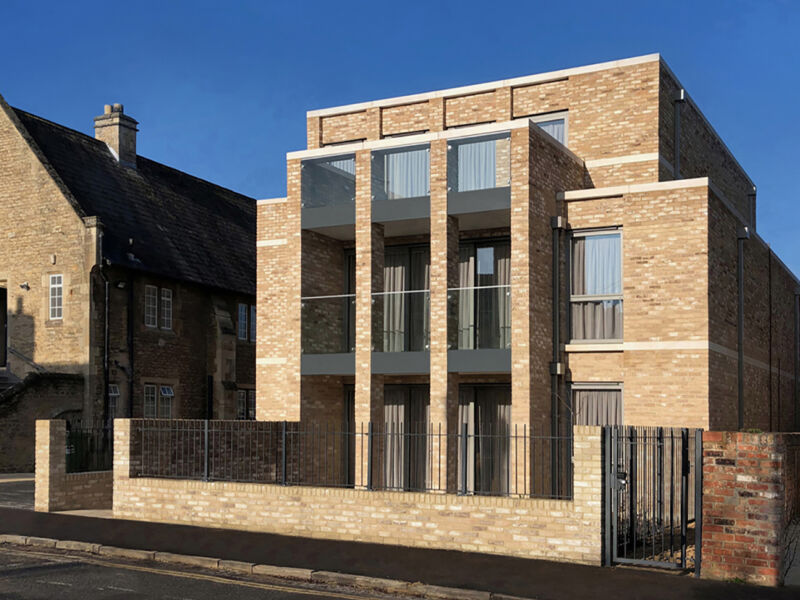 Portland Apartments is a three-storey residential project in Summertown, north Oxford, designed by local practice Adrian James Architects. The building, which comprises three flats, is intended to mediate between a masonry church hall on one side and a piecemeal mix of domestic architecture on the other. As such, it shares the detailing simplicity and material palette of former, while evoking the latter through the use of interlocking volumes to visually break up the facade.
The combination of bold massing, deep reveals, stepped walls and a proto-portico are intended to imbue the building with a hewn sculptural quality and nobility that belies its size. The residential nature of the scheme is expressed through the reinterpretation of key materials and motifs found in nearby houses – namely facing brickwork with feature masonry sills, thresholds and floor bands. While the building's orientation, massing and detail are designed to complement the local residential language, the colours of the masonry and fenestration are informed by the church hall.
A high-quality, rough-textured, pale-coloured facing brick with subtle tonal variations from buff to white was chosen for the facade. This is contrasted by smooth, consistently coloured horizontal bands of wet-cast Portland stone. A pale mortar ties the brick and stone elements together visually. Flush mortar joints are used to emphasise differences in surface texture.