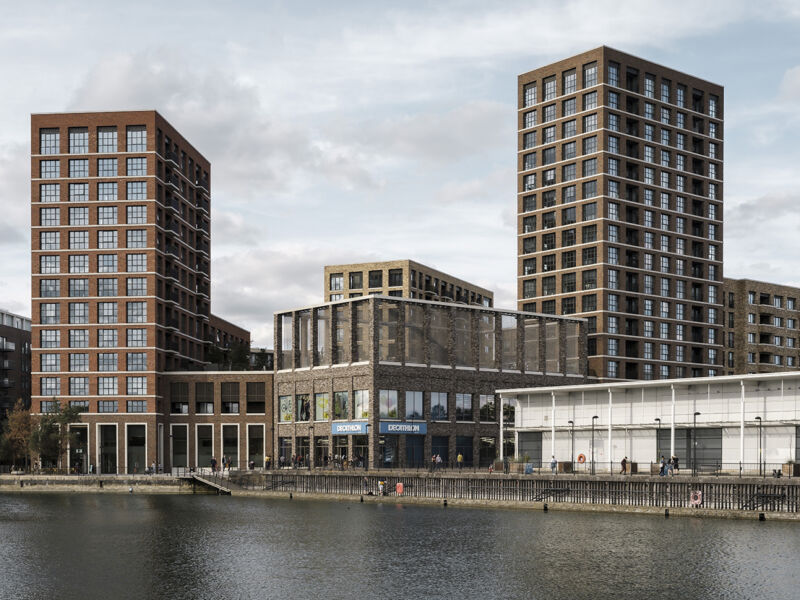 The Water Yards masterplan is a major mixed-use development at Canada Water in Southwark, which will deliver a new town centre with 1030 new homes and a range of commercial and community uses across a seven-acre site. The overall development will include 453 private sale homes; 346 private rent homes; 162 affordable rent homes; and 69 shared ownership homes.
The site is adjacent to Canada Water underground station and the dock, between London Bridge and Canary Wharf. It will also include 150,000sq ft of retail and commercial space, including a cinema, bars, restaurants, office space and a 100,000sq ft Decathlon store. Alongside this, a community sports facility and health centre will complement new public waterside town square.
Porters Edge at Water Yards, designed by Maccreanor Lavington, is the first phase of the development. Its role within the wider masterplan is to provide a new consolidated store location for the current Decathlon stores within a new mixed-use urban block. By doing this it makes way for the rest of the redevelopment and forms the northern edge of the masterplan and brings new definition to the Albion Channel to the north, Surrey Quays road to the east, the new public space to the south and the Canada Water Basin to the south.
The private rent homes are available through Folio London, Notting Hill Genesis's build to rent wing. Porters Edge at Water Yards is Folio London's biggest development to date. Rising up to 18 storeys, the development includes 234 apartments for private rent and Decathlon store with basement car park. The store occupies the lower levels of the building with an outdoor multi-use-games-area situated on the podium level. There are four residential cores at higher level surrounding a landscaped courtyard.
The overall material palette comprises a breadth of clay brick variations, contributing to the development's appropriate scale and welcoming public feel, as well as providing a point of interest across the scheme's many aspects. The longevity of the brick facades will facilitate multiple uses over an extended lifespan and require minimal maintenance, thereby ensuring a sustainable contribution to the area's evolving build environment.