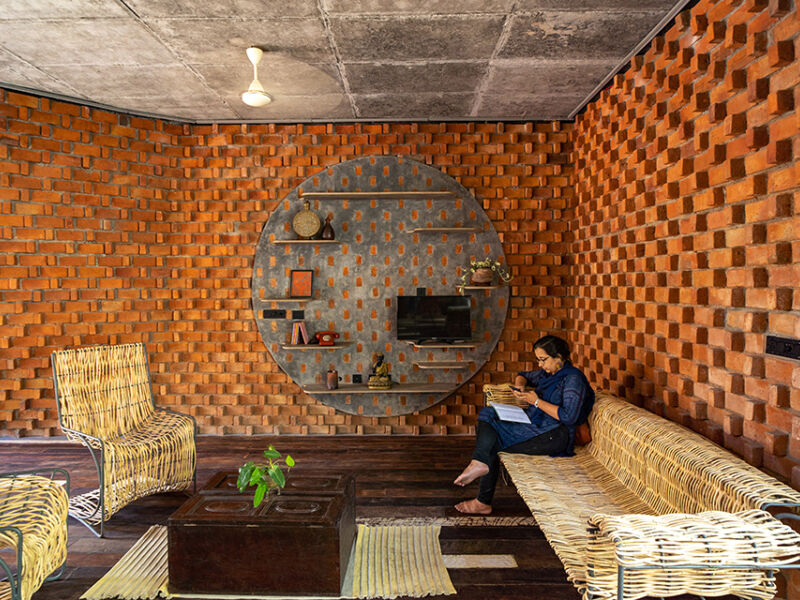 Designed by Wallmakers, Pirouette House is located on a small plot in the centre of Trivandrum, capital city of Kerala, India. Oriented east-west to maximise cross ventilation, the two-storey structure is organised around a hard-landscaped courtyard. The 196-square-metre house is accessed from the west with an open-plan kitchen and living area on the ground floor, and bedrooms, a terrace, and informal living space above.
Trivandrum stands as a testimonial to many of late architect Laurie Baker's masterpieces, so it seemed fitting to modify his Rat Trap bond masonry technique for a site which didn't provide the opportunity for soil excavation or making mud bricks, writes Wallmakers. Bearing in mind that traditional brick making in Trivandrum is a dying industry with specifiers favouring wire-cut machine-made bricks, this was also an attempt to promote a local agriculture-based industry that is on the brink of extinction.
The Rat Trap bond lays bricks vertically rather than horizontally, creating a wall cavity that enhances thermal efficiency. The construction method also reduces the number of bricks used and is ideal for concealing structural members and service ducts. The technique was further developed to form a series of slanting walls that range left and right, converging only to support the wafer-like ferrocement shell roof. The staggered walls help to create larger volumes, while simultaneously maintaining privacy for the house's occupants.