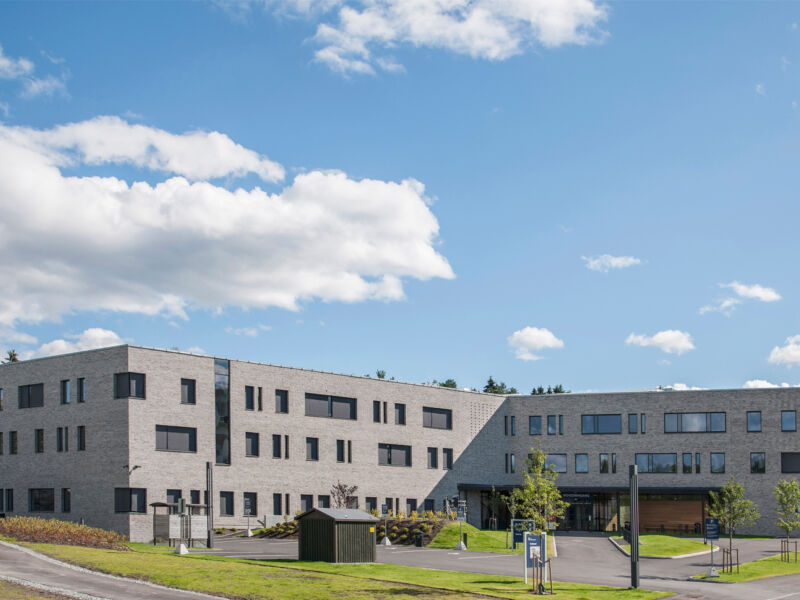 The main aim in Hille Melbye Arkitekter's design of the Oslo Psychiatric Centre was to reconcile seemingly contradictory aspects of safety with openness. This meant creating safe, comfortable rooms for patients while also providing a building that is welcoming for the public. Particular challenges in the brief included acoustic requirements, safety regulations and demands for space efficiency.
The centre, which replaces three existing facilities, is located between the town centre and a forest, with good public transport connections, all of which are regarded as important assets for a psychiatric centre. It consists of a principal three-storey building and adjacent two-storey offices and patient wards. The main building is set back from the road, creating an arrival court that relates to pedestrian access from the town centre. A spacious, bright lobby extends into the square with a covered entrance, welcoming visitors. The wards have brick facades facing the street and oak-clad courtyards facing the forest. The street-facing facade is divided into volumes aligned with neighbouring buildings to constitute a formal streetscape. The building's character and volume is defined by its brickwork details, with reliefs and ornamentation, varied sizes and placement of windows and the use of glass slices and corner windows.
An atrium in the centre of the main building provides daylight to the offices and treatment rooms. Each of the wards operates as an independent unit, with separate entrance doors off the street. A kitchen/living room and 10 beds are arranged around a courtyard garden on the forest side of each ward. The courtyards face a cliff wall cut into the exposed granite bedrock, from which the light reflects, giving the gardens a peaceful, private quality.
Most of the facades are clad in grey brick, laid in a random bond, with a warm coloured mortar to give the facade a softer tone. The brick colour was chosen to complement the exposed granite bedrock on the east side of the centre. Window cills are detailed with black stone to contrast with the grey brick. Oiled oak battens around the entrances, soffits, the atrium and the ward courtyards help create warm and inviting outdoor spaces.
The brickwork is extended into the window frames, while external solar screens are hidden behind the brick layer. In angled corners the brick is cut to fit. Throughout the project the use of different types of brick reliefs provides subtle variation to the facades. For example, over the entrance to each ward, glass bricks form a pattern and translucency that emphasises the portal.