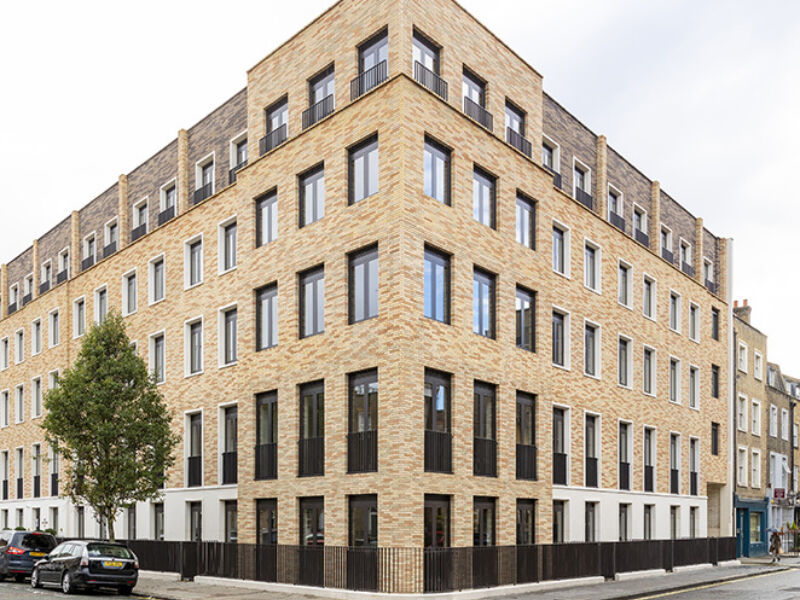 The One Molyneux project is a 32-apartment private residential new-built development arranged over 6 floors and comprising of a mix of 1, 2 and 3-Bedroom apartments. Servicing the apartments are private car parking and cycle spaces, cinema room and plant spaces accommodated in 2 levels of basement space.
The principal facing material to the building, across Molyneux Street, Crawford Place and Cato Street is brick to match the colour and texture of the surrounding buff London stock bricks. To complement and enhance the streetscape; a combination of 3 mixed colours recreates the subtle blend of the antique stock brick. A dark grey mix of brick is used at fourth floor level where the material emphasizes the recess and references the dark grey roof slates of the adjacent buildings. Context, character, and materiality combine along Cato Street, where the buff brick mix was used.
As part of the planning stage design produced by Shard Architecture the brick elements were proposed as a roman format Petersen 'Kolumba' brick but due to supply lead times and project budget restrictions extensive research was done during the construction phase to find a suitable locally sourced alternative. Following consultation with the Brick Association the construction phase design team was put in contact with York Handmade where a variety of bespoke brick sample panels were commissioned to find a combination of bricks that would best suit the aesthetic vision of the development and fit with the surrounding historical architectural context of the site.
The key to the successful completion of the external envelope was down to the design team working closely with York Handmade to develop a bespoke blend of brick mix that is in line with client aspirations for the project whilst keeping within the limitations of the project budget.