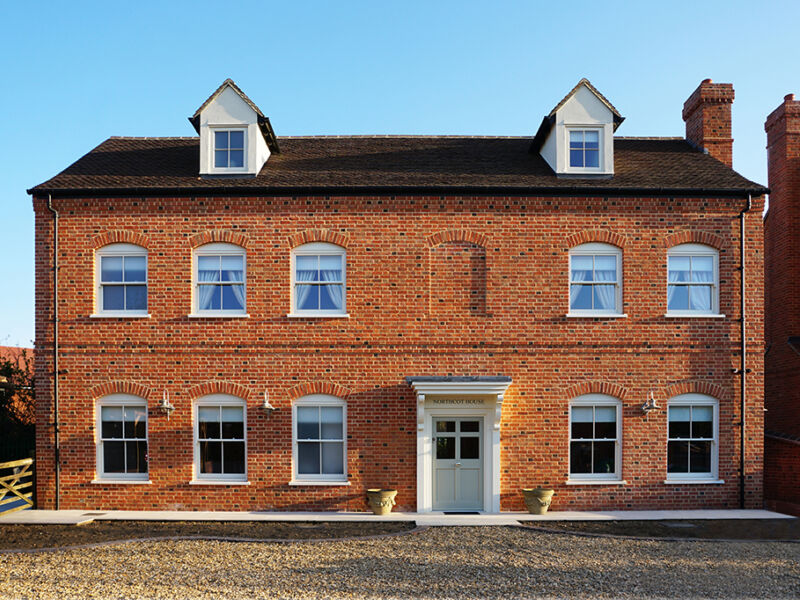 Northcot House is a four-bedroom three storey detached home with an adjacent barn styled garage, situated in the picturesque village of Pirton in Hertfordshire. This unique design combines high specification modern materials with traditional craftsmanship in a creative and innovative way in order to make the house resemble some of the historic buildings in the village.
The vision was to make the Northcot House look like a working nineteenth century farmhouse, with a characterful but utilitarian appearance. Although constructed with modern materials, the structure was to look as though it had always been there. The design referenced many of the characteristics of older buildings. For example, the front elevation incorporates a discreetly bricked in window, a feature often seen on historic buildings from the days when openings were often bricked up in order to avoid paying the much-hated eighteenth/nineteenth 'window tax'. The front door was also designed in traditional dimensions: 1950cm H x 1150cm W in order to look old.
The brick-built garage has an open oak build structure at its entrance and round the side in order to give the appearance of a traditional oak beamed barn.The choice of facing bricks was central to creating a traditional look. The Developer visited the Northcot brickworks many times and built several sample walls to get the exact blend, tone and texture of brick they wanted, which would give a historic timeless appeal.
A bespoke blend of imperial sized handmade bricks was lightly 'tumbled' to give a give an aged and slightly rugged, weather worn effect with a softer look that is closer to genuine old reclaimed handmade bricks. This is a highly unusual practice for handmade bricks, due to the technical challenges involved (handmades being softer than machine made), but Northcot successfully adapted its processes to achieve the desired effect. Known as the Northcot House blend – a subtle mix or rich rustic reds and oranges with varying degrees of antiquing – the bricks were laid in a Flemish bond in a hand mixed lime mortar to accommodate any irregularities. Every square metre had 6-7 dark plum brown snap headers, mirroring the style of brickwork often found on historic farm buildings. Local tradesmen were used throughout.
The bricks used on the window and door arches were not purposely cut, but hand selected by the developer for the more precise detailed work. Other areas of intricate Victorian detailing included dentils on the chimney, discreet corbelling underneath the facia boards and a 3-brick band of feature corbelling round the middle of the house facades. The same blend of bricks was also used as part of the interior design to add character to the feature fireplaces.
The developer/owners were so impressed by appearance of the brickwork and the help and meticulous attention to detail received from Northcot Brick that they named their home 'Northcot House' after the manufacturer.