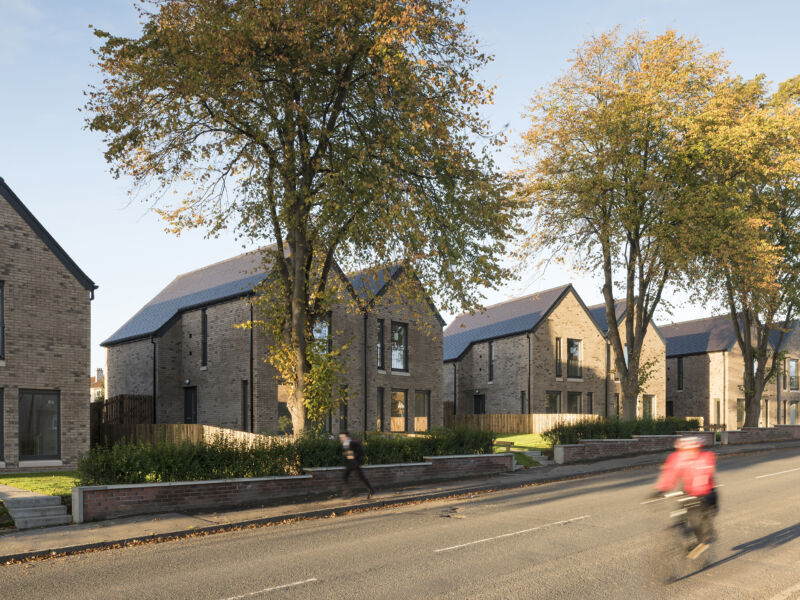 Collective Architecture was commissioned by Home Group Scotland to design 32 new houses and a children's home on a compact brownfield site on Glasgow's south side. The site is located on Muirskeith Road, adjacent to Newlands Conservation area: a leafy neighbourhood with beautiful sandstone villas, generous gardens and greenery. It is extremely well served in terms of local amenities and there are several schools nearby. Home Group is a housing association, social enterprise and charity, and provider of integrated housing, health and social care projects, many of which are newly built.
Glasgow City Council previously owned the Glasgow site and an existing 32-bed care home required decommissioning before work started on the new housing. The associated parking and pathways, occupying around a third of the site were also removed. The remainder of the site, arranged as garden space with mature trees, was developed as part of the proposals in the £5.2m project.
Early consultations were undertaken to look at how to develop the site as sensitively as possible, retaining existing trees and the level of greenery that characterises the site. A concept was developed to pair homes with trees, whether existing or new, in a shared front garden. Narrow house forms were adopted so as to allow space for the trees to grow and flourish. The house plans are efficiently laid out with a gable entrance, a central stair well and rooms either side spanning the full width of the house with generous glazing for bright and airy spaces internally.
The gable form is employed as a repetitive element to provide variety and interest along the street frontages. The particular brick specification was influenced by the red sandstone of the neighbouring houses, as well as the blonde sandstone of those opposite. Post-war housing in the vicinity had a mixed palette of red and brown bricks, and typically roofs were slate and concrete in dark tones.
"The site is on the edge of a conservation area characterised by large sandstone villas, and the nearby post-war housing is built in a mix of brick and concrete", says the architect. "We wanted brick tones that would complement the villas, and a texture that would sit well against the backdrop of the leafy neighbourhood, and the variety of different housing styles."
"The budgets were so tight that we did have to work closely with the brick supplier to find a suitable type", says Collective Architecture. "We presented this to the client as a high-quality brick, robust and durable, and with the promise that this would look great for may years into the future. The team is delighted with how the project has turned out."
The children's home, positioned at the entrance to the former care home, is designed to integrate within the neighbourhood and existing streetscapes. It is domestic in scale, providing eight bedrooms over two floors, adopting the same materials and architectural style as the adjacent housing.