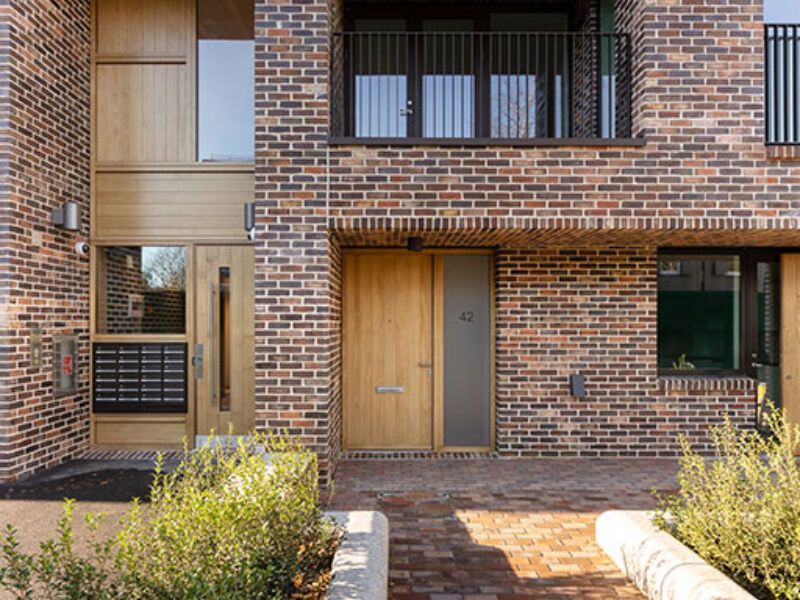 Branch Place delivers the first replacement homes in the second phase of the Colville Estate Masterplan designed by Karakusevic Carson Architects. The project is a new community of 116 mixed-tenure homes delivered over two buildings alongside new public routes, play space and associated landscaping.
The two buildings of Branch Place use brick as a primary cladding material alongside elegant aluminium metalwork, copper to the mansard roof and timber doors to create an attractive, low-maintenance and long-lasting housing scheme which delivers the best value for money for the community and the local authority client. 
Design proposals have been informed by extensive engagement with The Colville Tenants and Residents Association (CETRA) and the wider community throughout all design stages to deliver a scheme which best reflected their needs and aspirations. Residents were involved in all aspects of the scheme from the layout of streets and spaces to material specifications. Brick samples were reviewed and selected at dedicated CETRA meetings for their tone and colour. 
The selected brickwork palette reflects the local vernacular of warehouse buildings along Regent's Canal, surrounding residential properties and a nearby Victorian school to ensure the project sits cohesively within its context. 
The design of the new buildings balances consistency of urban form with a variety of architectural character between each building through articulated roof lines, facades and subtle variations in brick tone. A building for social rent with a copper mansard roof marks the entrance to Branch Place and the new Colville neighbourhood. The copper roof reflects the materiality of nearby historic warehouse buildings and complements the chosen brick palette. A lighter brick is used on the upper levels, whilst a darker brick is present at ground level to highlight non-residential uses and anchor the building into the streetscape. 
A courtyard building along Branch Place is designed with a raised landscaped courtyard garden covering an undercroft carpark. In response to the different edge conditions, the massing has been broken down into smaller elements. Lowering the mass to the south ensures light enters the courtyard space whilst enabling views towards the city. Variations brick tone break down the visual mass of the courtyard building and create interest and diversity across the site. Homes located to the south which front Colville Street are crafted from a repeating pattern of lighter and darker brickwork to reflect the character of a typical Victorian London street. Inside the buildings, double height communal lobbies are faced with glazed brickwork at ground level and carefully detailed with Accoya timber doors. 
A landscaped courtyard garden is lined with high-quality paving materials and furnished with play equipment, seating and community planting beds to create a space for residents to meet and socialise.
Branch Place demonstrates that an exemplary tenure-blind housing scheme with genuine social value can be delivered on a local authority budget. 
The use of high-quality brickwork has created a beautiful, sustainable and long-lasting project which makes a positive contribution to the London Borough of Hackney.