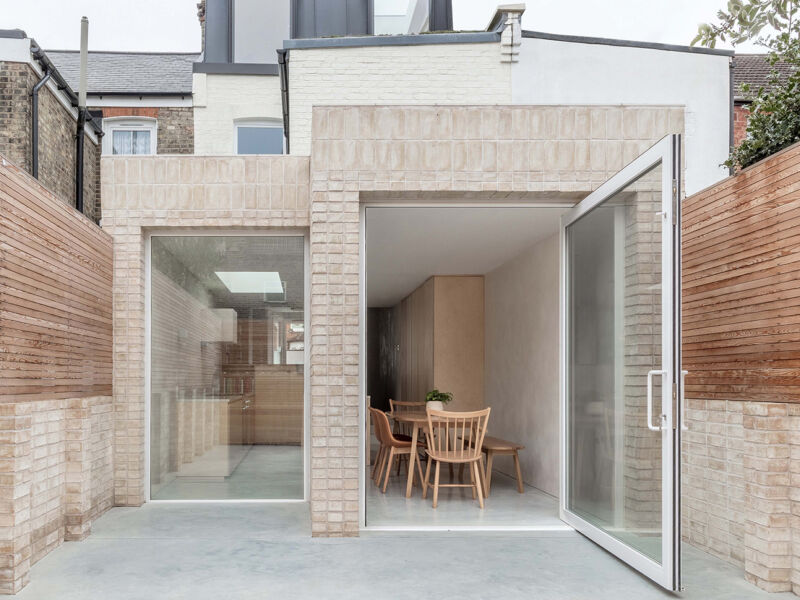 The first project by the new office of Magri Williams Architects, at Roslyn Road in Tottenham, north London, reimagines an existing Victorian house. The original building was constructed from London Stock bricks, which the architect says epitomises the London terrace and, the new addition builds on that tradition.
The project comprises a rear extension, loft conversion, and refurbishment elsewhere, responding to the client's brief to enlarge the ground floor and provide an additional bedroom. The existing house featured a rear outrigger that stepped in form, and in reference to this, the new ground floor extension is staggered, continuing the rhythm and defining the kitchen and dining area.
The original hallway, previously knocked through to the living room, was reinstated to separate the entrance area. This reduced the size of the living room, but made it more intimate, and in contrast to the extension, which provides a large open-plan living, kitchen and dining room. A level change and half-height plywood joinery wall subdivide the space, maintaining a visual connection while defining different areas. A new plywood staircase joins the three floors with a large skylight above, and on the second floor, the loft was converted to provide an additional bedroom and en-suite bathroom.
In terms of the brickwork, the architects went back to first principles, seeing the extension as an opportunity to express the elemental form of a brick, with its three different facets. As such, all the bricks are laid in the same orientation, allowing each face to be revealed as the building steps back: the end face is expressed in the rear elevation, the side face in the stepped form, and the top face is rotated in the header detail. The chosen brick echoes the original London stocks, but is noticeably different in colour and arrangement to lend a distinctly separate reading.
Internally, the tones of the external brick inform the supporting material palette, with walls finished in a light clay, while the extension floor transitions from an ash-white polished concrete to a white square tile at the existing threshold, naturally arranged in a stack pattern. The tiles consist of a palette of many shades, creating variation and tonal composition, and echoing the natural variation in the rear brick elevation.
Have you any examples of clay brick's role in the built environment? The Brick Awards celebrates the very best of brick architecture and entries are now open for 2019. Click here for further details and to create your entry.