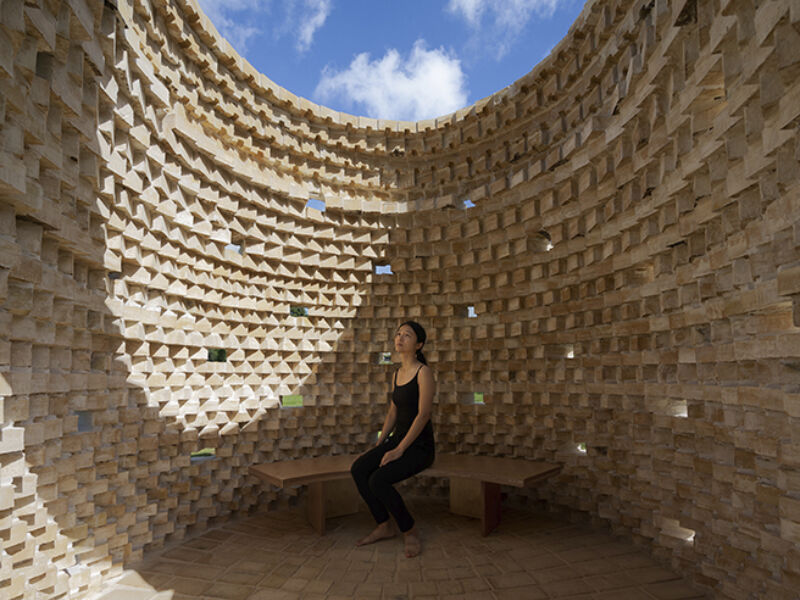 Who says clay brick isn't a modern construction material? Code Bothy is a digitally designed and hand-built brick structure (designed using an Augmented Reality/AR headset) at Grymsdyke Farm in Buckinghamshire.
The research project undertaken by Piercy & Company, in association with the Material Architecture Lab (MAL) at The Bartlett, UCL, is not only concerned with expanding the possibilities of digital fabrication, but also with its applicability to the construction industry.
Parametric modelling was used to generate a brick structure that would be challenging – if not impossible – for a skilled bricklayer to set out without the aid of digital tools, but which could be handmade with computer-coordination relayed via the aforementioned AR headset.
As such, the scheme combines the potential offered by digital design and fabrication technologies with the handcrafted qualities that are commonly absent in robot-laid brickwork.
"The early concept development for the form was actually a manual process and was particularly concerned with the sense of enclosure and orientation," explains Stuart Piercy, director of Piercy & Company. "The north face is protected, and the south aspect allows the sun to penetrate into the volume through the oculus for the longest period."
The bricks are 'instructed' to follow a given geometry, with other geometrical relationships as constraints. Each brick must overlap with all the neighbouring bricks by at least 50 per cent. Each brick is set at a unique angle to itself and to each other; there is no repetition. The rotation of the bricks is parametrically differentiated with code to allow for the overall sculpting of the form. On the bottom layer, the bricks are set at 45 degrees to one another. The geometrical relationship gradually and parametrically shifts so that the bricks are parallel to one another at the top.
During construction, the bricklayers 'turned on' each layer of bricks one at a time and placed real bricks where the Holo-lens display showed virtual ones. The space to be taken up by mortar is accounted for in the model simply as a gap between the bricks. The process of filling the gaps relied on the bricklayer's skill, timing and dexterity.