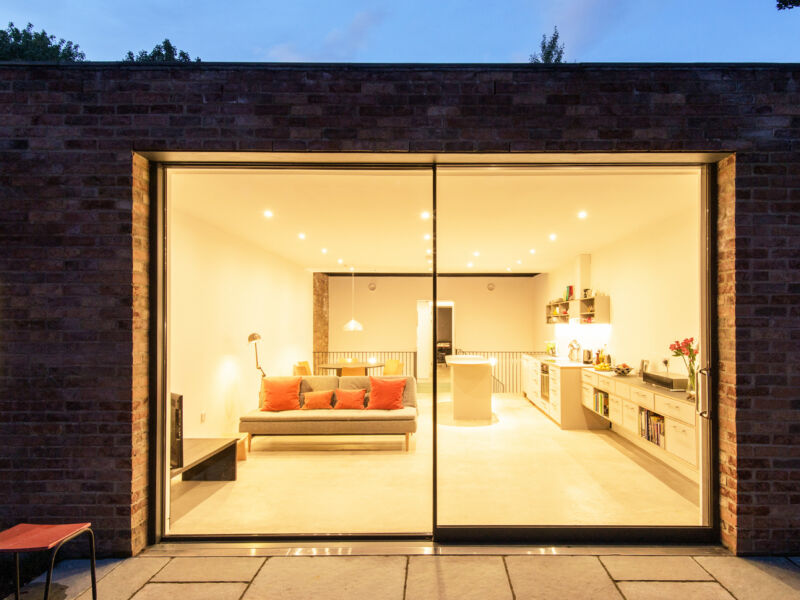 113 and 115 Ouseburn Road, Newcastle.
Two next-door neighbours wished to downsize from their large Victorian terrace houses while remaining within their community at Ouseburn in Newcastle, so together they commissioned Miller Partnership to design two new houses at the bottom of their long back gardens.
The design was guided by the narrow, steeply sloping site, together with the below-ground remains of the area's coal mining legacy, and sought to collaborate with local craftspeople while responding to the architectural character of Ouseburn's industrial heritage. The project was made financially viable through the use of a single contract, with shared costs of engineering and services infrastructure, all with a clear focus on sustainability through low-energy use and running costs.
Ouseburn Road, once a busy highway linking Jesmond and Heaton with the Newcastle Quayside, was built in the 1890s, with the houses of Stratford Grove Terrace originally serviced by stables and outbuildings in their gardens on Ouseburn Road. The site was occupied by substantial brick garages, which were demolished, leaving a site width of 14 metres for both houses. This necessitated building right up to the boundaries with the neighbours, with openings limited to the front and rear only. The steep topography dictated that some ground-floor accommodation was effectively subterranean, while parking had to be incorporated within each houses' footprint.
Large sliding doors on steel rails allow the entire building frontages to be opened up to the road side. Metal-framed windows and boarded doors are set in deep masonry reveals of flush-pointed red brick. The same brickwork also extends throughout the key interior spaces. The neighbours' boundary walls were later reinstated, reusing the bricks from the original garage structures that had been carefully dismantled by hand, cleaned and stacked by the clients prior to the build.
The thermally-efficient, air-tight building envelope is constructed using loadbearing brickwork, concrete, engineered timber, double-glazed and thermally-broken windows. Both houses are heated using ground-source heat pumps with four 105-metre-deep holes. GSHP technology draws a constant latent heat from the rock below ground and extracts it via a compressor to raise the temperature for use as domestic hot water and supply underfloor heating systems. Excess heat generated though solar gain during the day is captured by the thermal mass of the brick and concrete and slowly radiates at night. Natural ventilation is supplemented by a whole-house mechanical-ventilation heat-recovery system. The extensively planted green roofs prevent excessive run-off from the site into the local drainage system, while stone-filled gabion-basket retaining structures double as French drains, directing water away from the paved terraces to soft landscaped areas.