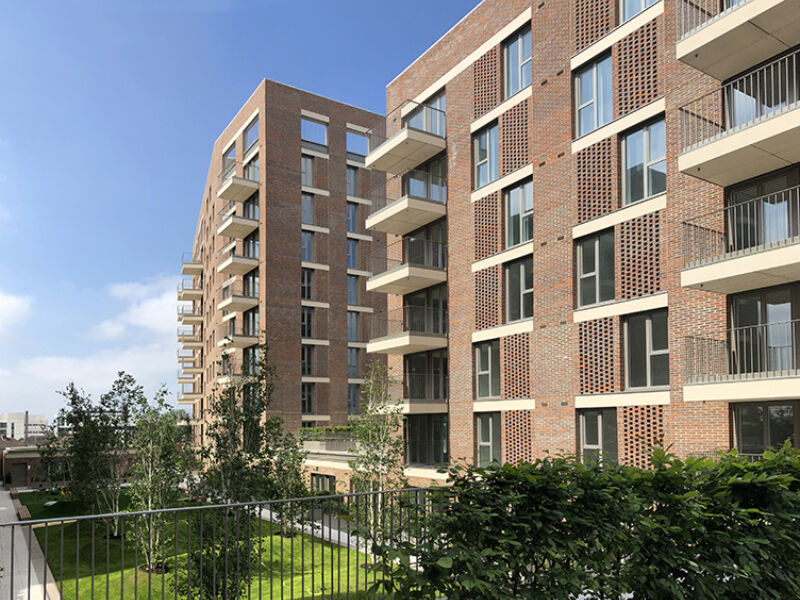 Sited in a former commercial environment, the four 'warehouse' residential blocks, echoing the local vernacular of Material Store, rise above the ground forming a podium that surrounds an oasis of private patios and a large common garden. The parking is sited below the podium is concealed behind 3-bedroom townhouses that animate the street with their steps and 'front' doors. The roofing on all four blocks is landscaped as communal gardens, creating a truly useable green environment for the residents. The extended articulated parapet to the tallest block creates an outdoor room and emphasises the building's position as the tallest element of the masterplan.
This surprisingly compact development of 189 build-to-rent homes enjoys generous shared facilities that promote a sense of community in the context of private rented sector tenure, blending play areas, a function room, picnic tables, allotments, a concierge service and an onsite maintenance crew to create a fully managed community environment. Commercial elements front onto the Spine Street, which are intended to bring the development out to the wider community.
Newground Architects selected Michelmersh's Freshfield Lane, First Quality brick for its visual characteristics including a hand-made appearance and warm colour with a mix of red, orange and purple hues. The colour selection was important as it means the brick looks pleasingly different at various times of the day and under contrasting daylight conditions.
Brick screens in different forms on all facades are key design features serving both aesthetic and functional purposes. On the north facade, masonry screens prevent overlooking of the neighbouring Boiler House with similar screening used to provide privacy to windows on the internal elevations between blocks. On both the internal and external east and west elevations, double bay bedroom windows are partially concealed behind perforated brick screens to provide privacy and to protect against overheating. This solution retains a feeling of openness in the rooms as well as allowing natural light to permeate into the building.
Material Store is a truly wonderful living environment created by the perfect contrast of brick and mortar against green useable space.