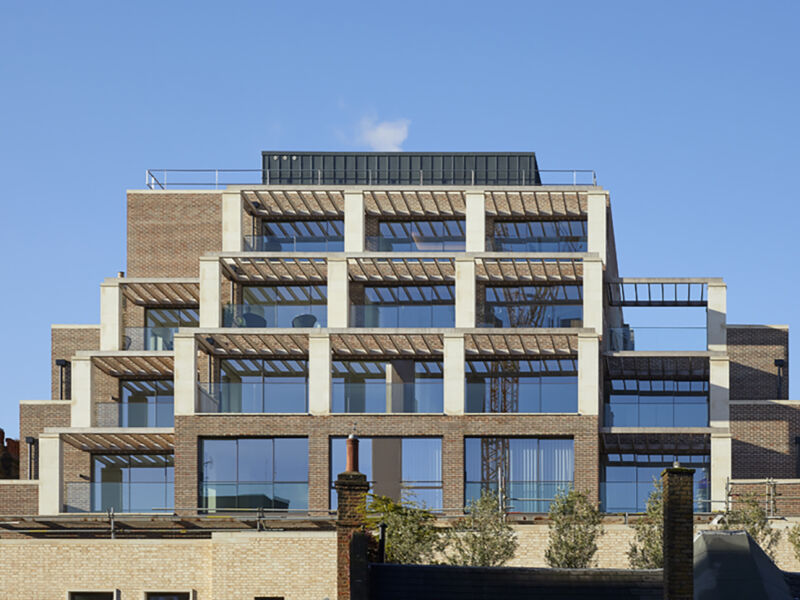 The mixed-use redevelopment by architect Dixon Jones, of 35 Marylebone High Street in London, incorporates a 1930s retained facade fronting a range of brick apartment terraces that cascade down to a row of houses that re-establishes the mews behind.
Distinctive in style and scale, the 'moderne' facade is described in the Harley Street Conservation Area assessment as having townscape merit, whereas a 1960s six-storey extension to the rear – a former BBC office building – was considered 'negative'. Acknowledging this duality, Dixon Jones proposed retaining the street facade as a frontage to the new apartments and replacing the 'out-of-scale' rear extension with new mews housing.
The original symmetrical facade was designed by North Robin & Wilsdon, architect of C&A department stores of the same era. Minor changes were made that were intended to reinforce the original intentions and spirit of the building, with a zinc-clad rooftop extension, reinstatement of flag poles to underline the symmetry, and new shop frontages and an entrance door in a style sympathetic to the original design. The facade was cleaned and, where necessary, the brickwork repaired with closely-matching 'heather grey' handmade bricks in imperial size. The fenestration was renewed with double-glazed steel frames to the original glazing bar arrangement.
The deep-plan apartments are characterised by a series of stepping terraces and pergolas, which animate and negotiate the transition between the different scales and typologies of high street and the mews. The five mews houses are stepped horizontally and vertically at the party walls to accommodate the footprint of the site and change in level, while also accommodating movement joints. Modern details are used within a traditional typology.
The building form expresses the three elements – existing facade, apartments and houses – and their differences are heightened through the different bricks. The existing dark brick to the retained facade, in Flemish bond, contrasts with a coordinating dark brick for the apartments behind, and a yellow brick for the terrace of new houses, with Portland Stone reveals and Cornish De Lank granite base. The use of lime mortar throughout necessitated care and adherence to traditional craftsmanship for this type of construction. Lime mortar had the advantage of reducing the extent of expansion joints in the facade and the light colour was selected to be appropriate for both the yellow and dark bricks. Numerous samples and mock-ups were tested and compared prior to construction to agree the appearance and methodology for the pointing and to confirm the mortar colour.
While the completed project can be regarded as a contextual response to the site in terms of massing and typologies, it also maximises the potential overall floor area while remodelling the building to reduce its apparent impact, especially from the domestic mews behind. The sensitivity to scale and typology, and the use of traditional and appropriate materials, transforms the site and its surroundings and makes a civic contribution to the townscape and setting.