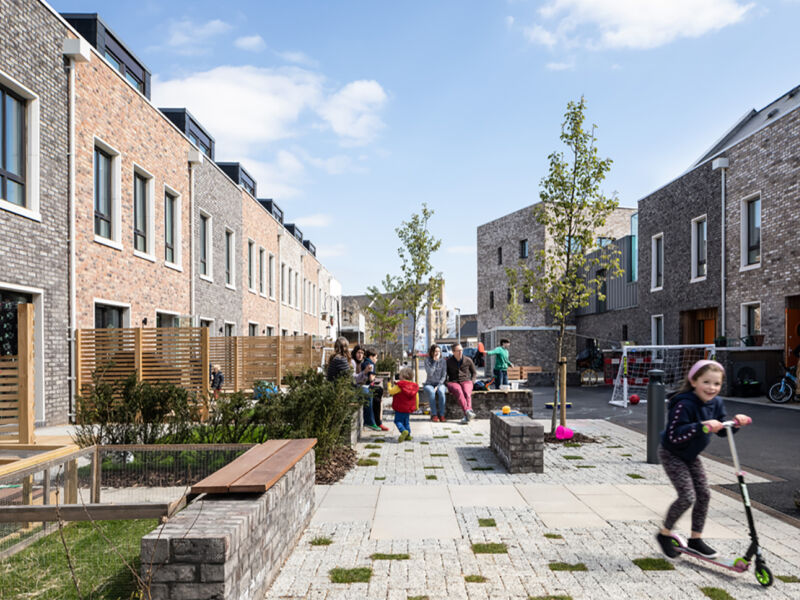 Recognition that custom-build and community-led housing can make a significant contribution to future UK housing provision is gaining ground – there are currently more than 60 cohousing groups in the UK, with approximately 20 built projects. The completion of Marmalade Lane in Cambridge, the city's first cohousing development, will surely further the cause.
The project, designed by Mole Architects, follows an eight-year collaboration with K1 Cohousing members, and symptomatic of the notion of participation was the residents' involvement in selecting the brick colour for their home from a palette, chosen following research into local precedents by Mole and developer TOWN. The facades of terracotta red, cream and charcoal brick with white window reveals, imbue the development with individual character, setting it apart from the uniformity of many new developments in the city. Brick bin stores and low brick front garden walls, which also form timber-topped benches, separate the gardens from the street while reinforcing a sense of openness and shared space.
Marmalade Lane delivers 42 homes on the one-hectare site, with a mix of two- to five-bedroom terrace houses and one- and two-bedroom apartments. As in many other contemporary cohousing communities, shared spaces and communal facilities are integrated to promote communal, sustainable living. Extensive shared gardens form the focal space, with areas for growing food, play, socialising and contemplation. A flexible 'common house' incorporates a playroom, guest bedrooms, laundry facilities, meeting rooms, and a large hall and kitchen for shared meals and parties. A separate workshop is located elsewhere on site. As members of Cambridge Cohousing Ltd, all residents have a stake in the common parts and contribute to the management of the community, a diverse group that includes families with young children, retired and young professional couples and single-person households of different ages.
Marmalade Lane is located in Orchard Park, an urban extension to north Cambridge initiated in the early 2000s. In the nineteenth century, local orchards and the nearby railway attracted the Chivers fruit distribution and marmalade-making business, and K1 Cohousing adopted the name for the new car-free street running through the development. Chivers' profit-sharing scheme, first implemented in 1891, also chimed with the co-operative values of the cohousing community.
The sale of the site by Cambridge City Council to a local housebuilder fell through in the 2008 crash, so the council agreed to work with K1 Cohousing. An open two-stage, developer-led competition established design and delivery credentials before inviting tenders, and in July 2015 TOWN and Swedish prefabricated housebuilder Trivselhus, with the design team led by Cambridge-based Mole Architects, were chosen. Mole's design drew on TOWN's advocacy of street-based development to create a scheme that knits into the wider neighbourhood, while meeting K1's requirements for private and shared spaces. The homes are arranged in terraces that face existing streets and create a new one – Marmalade Lane – ensuring the development looks outwards as well as in. The terraces enclose the large shared garden with an open aspect to the south to maximise sunlight. The Common House faces south onto the garden, acting as a gateway between the public and cohousing realms. Communal waste stores and 146 cycle parking spaces, and car parking is kept to the periphery.
As a custom-build development, each K1 Cohousing household selected one of five 'shell' house or flat types, which they then configured through the floor-by-floor selection of floor plans, kitchen and bathroom fittings, and one of the external brick specifications. The wide and narrow house types and 'paired' flat shells share a 7.8-metre-deep plan, allowing them to be arranged in any sequence along a terrace.
The brick-clad houses were built using Trivselhus's Climate Shield closed-panel timber-frame system, manufactured in southern Sweden – a single house can be erected in two days. They match high thermal efficiency and airtightness with build quality, and feature factory-fitted triple-glazed composite aluminium and timber windows and electrical ducting. Mechanical ventilation and heat recovery (MVHR) systems provide a comfortable internal environment, and air source-heat pumps provide low carbon electricity.