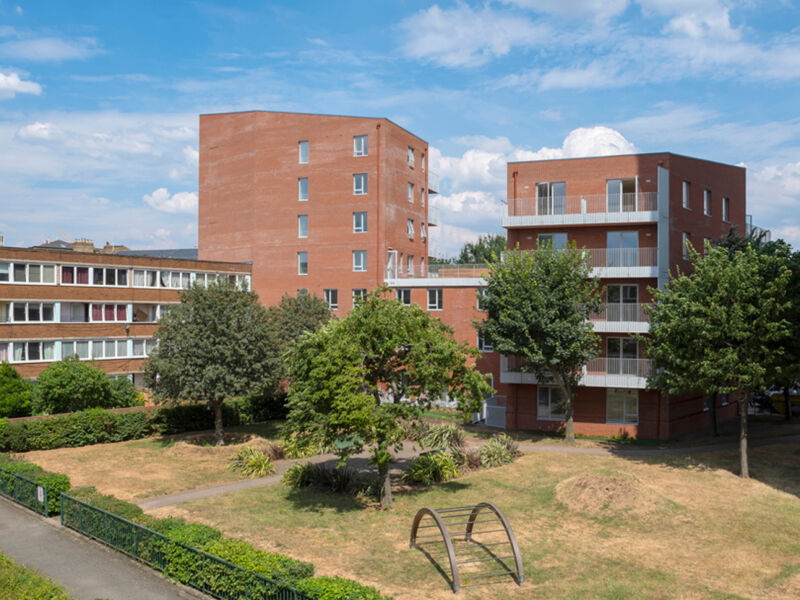 Marklake Court is a community-led development of council rent homes on the Kipling Estate near London Bridge. Bell Phillips Architects designed the project with the local community in a ground-up approach to providing housing for social rent. Twelve under-used garages were identified by the Kipling Tenants & Residents Association as a potential site, and Southwark Council recognised that the community was best placed to deliver the 'hidden homes' on a leasehold basis. Residents living in existing properties too big for their needs were prioritised, giving them the opportunity to 'right-size' and freeing up larger properties for other families in need.
The development provides 27 apartments and maisonettes (including three fully-accessible homes) in sizes from 1-bed, 2-person units to 3-bedroom, 6-person units. The building's height and massing 'repairs' the fragmented urban grain – resulting from wartime bomb damage as well as subsequent post-war development – that "sits at odds with the historic nature of the Bermondsey Street Conservation Area", say the architects. The consultation agreed that the development should not be too tall and should maintain good daylight to the adjacent communal garden. The building comprises three elements: two modest blocks with sloping roofs (seven and five storeys respectively), connected by a three-storey portion with a roof terrace above. This arrangement forms an L-shaped wedge that extends the existing street frontage and embraces communal open space to the rear. Private front doors to maisonettes, balconies and communal entrances add activity and interest along the Weston Street frontage.
Residents were clear that the development should feel like an integral part of the existing estate. "The use of red brick enhances the development's visual coherence and references local historic properties. Brick also offers the sense of permanence and robustness sought by local residents and responds to residents' desire for a low maintenance building", says Bell Phillips. The brick is detailed to enhance a sense of solidity and offer visual interest; feature horizontal courses of sawtooth brick are incorporated into the ground and first floors, and this detailing is extended around communal entrances. The horizontal sawtooth details were incorporated following a walking tour of the area with local residents, who noted the use of similar details in historic brick buildings.
The development overlooks adjacent open spaces, with Guy Street Park to the north and Leathermarket Gardens to the east. All homes are dual- or triple-aspect with generous floor-to-ceiling heights and windows that provide good natural light and views. A generous third floor roof terrace with panoramic views incorporates planting, seating and opportunities for play. Balconies are designed to encourage social interaction and communal entrances incorporate seating areas to enhance this. To the west the building opens on to the existing shared communal garden, strengthening the connection with the existing community.