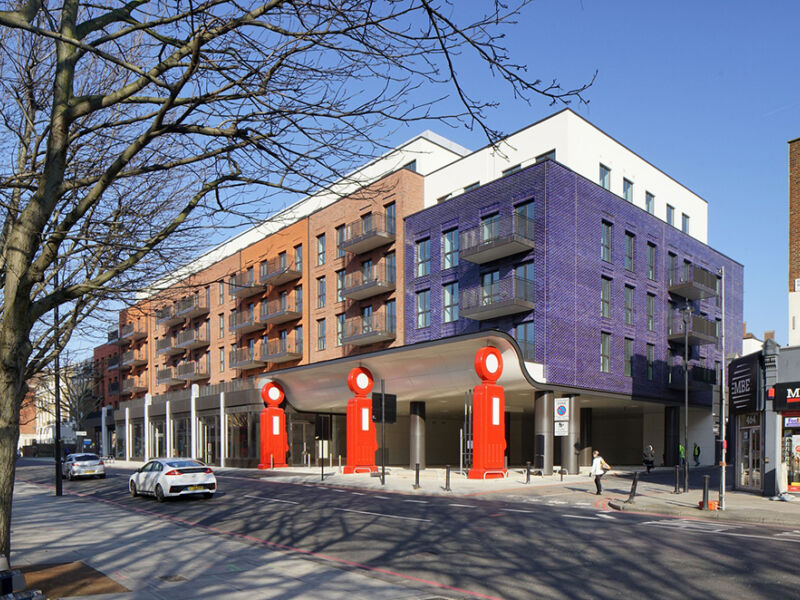 A sensitive yet colourful addition to the Edgware Road, Lyons Place is an innovative development in Westminster, comprising 76 apartments and townhouses.
The reinstatement of the petrol station, originally on the Edgware Road in the 1930s, enhances the scheme and reinvigorates the area. Referencing Pop Art and the romantic period of motoring, three abstracted pumps from the 1930s are blown up to iconic proportions as playful contemporary monuments for the local area.
Located in a transitional location between Maida Vale and the more urban commercial Edgware Road streetscape, the concept developed to unify and help to define the grain of these two bounding neighbourhoods. The project started on site earlier in 2017 and was built by Chine Brickwork.
Working closely with renowned architects, Farrells, the design draws on references from the rich cultural history of the area, offering residents the chance to embed themselves in a vibrant local community to create an urban oasis, feel, each home benefits from either a balcony or terrace and access to a beautifully landscaped courtyard, a rare feature in central London. The high quality masonry by Chine Brickwork using bespoke blue glazed bricks made by HG Matthews, really does bring Farrells' initial vision to life.