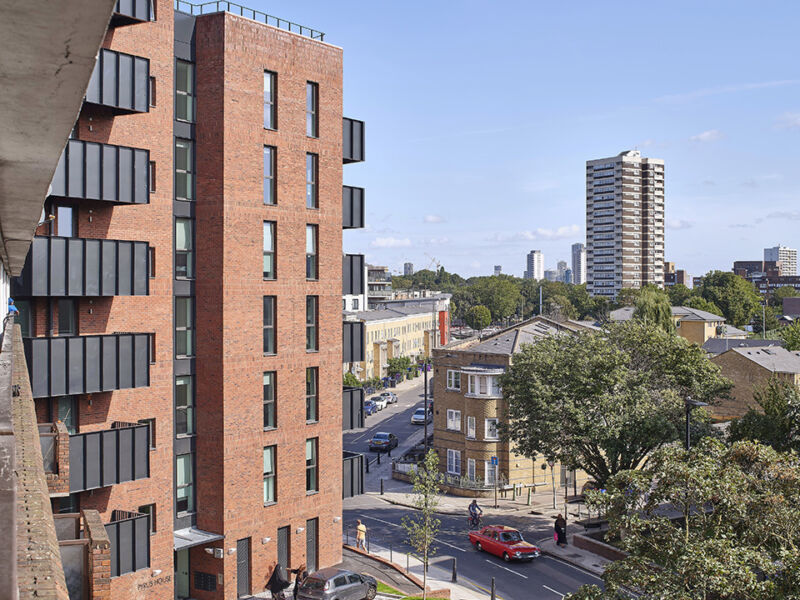 For the third and final of our features on Bell Phillips Architects' developments in east London, colour and the local material palette have influenced the design for the new homes on the Locksley Estate. The site has been used to provide 33 new apartment homes over 8 storeys, as well as new communal amenity and play space.
From afar, the metal clad balconies with vertical fins create a strong visual rhythm while echoing the historic infrastructure of brick, made by Ibstock, and iron rail bridges, faceted brick chimneys and accumulator towers which were prevalent in the area. The layering of several decades of redevelopment has created a varied mix of housing typologies, with few of the original terraced houses that formerly characterised the area remaining. Into this patchwork neighbourhood, Bell Phillips have introduced a low-rise building, sensitive to the local context. Development is concentrated towards the southern edge of the site allowing clear views from most homes over the adjacent canal.
The new dwellings on the Locksley Estate form a visual termination to an existing rectilinear block. Furthermore, the positioning and form of the new block anticipates further planned developments, also by Bell Phillips, which will improve the visual cohesion of the local townscape.
The residential block has been designed to suit local need with a mix of one, two and three bedroom apartments. The majority of these are three bedroom homes to cater for growing families. The play spaces on the ground floor will create opportunities for family play and community activities. Bordering the communal area, private gardens designed for wheelchair users on the ground floor will ensure equal access to outdoor amenity for all.