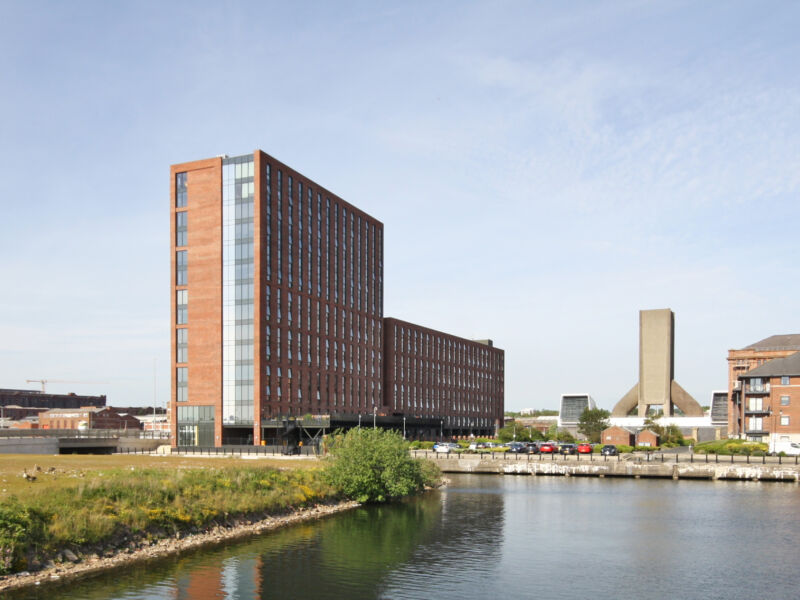 Park Central and Quay Central are part of the £5 billion redevelopment Liverpool Waters project to transform 150 acres of historic docklands, the single biggest regeneration project in the history of Liverpool. The Central Docks neighbourhood will be a world class business and leisure district with over 2,000,000 square feet of mixed use floor space, including 710,000 square feet of office space and over 1,000 new waterfront apartments in buildings up to 44 storeys high.
Park Central is the second phase of the Central Docks residential development. It offers 129 one and two-bedroomed apartments over 14 storeys.
Quay Central comprises two blocks offering 96 one-bedroomed and 141 two-bedroomed apartments as well as 5,000 square feet of commercial space and undercroft parking for 50 cars.
Elevation design is driven by the historic context of the site, being situated near the Waterloo Warehouse within the wider Waterloo Docks. The site is bound by two contrasting edge conditions. To the south are buildings with a strong industrial character and to the north is a soft landscaped park. The development presents two different external characters depending on the elevation: the south, facing Waterloo Warehouse, features regular punctuated openings with formal recesses while the north pushes out with the use of piers and louvres, expressive depth and verticality towards the green public space.
The brick selected for the projects is Woodside Mixture from Forterra's Butterley range. Made at the company's Accrington factory, it is a wirecut red clay brick with a printed texture that complements the site's historic context close to the Waterloo Warehouse within the wider Waterloo Dock area.