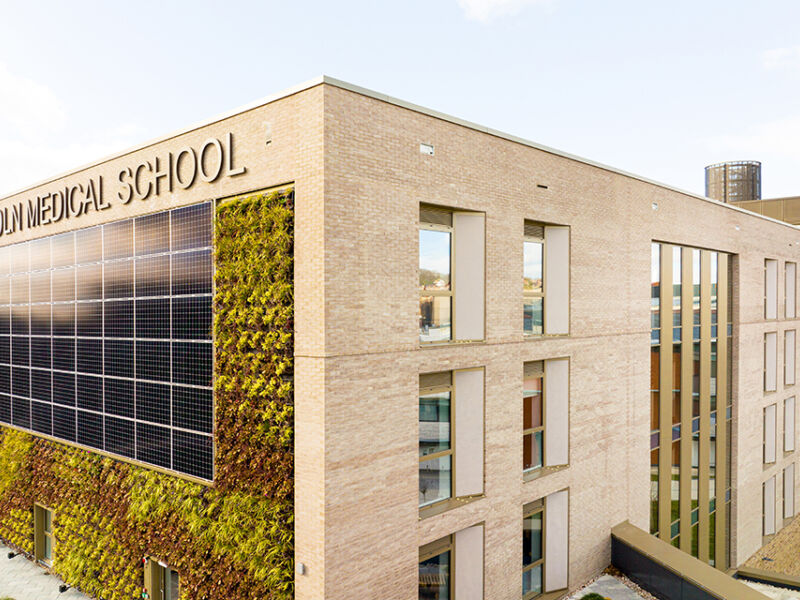 Lincoln Medical School is a partnership between the universities of Nottingham and Lincoln and delivers various medicine foundation and degree programmes. The brand-new purpose-built Lincoln Medical School Building was completed in March 2021 and includes lecture theatres, laboratories, a clinical skills suite with consultation rooms, an anatomy suite, and a biomedical and health sciences library. The school was established with the specific aim of improving the recruitment and retention of doctors to Lincolnshire.
The new building design takes inspiration from the nearby picturesque Brayford Pool waterfront. It is the most sustainable building on the University Estate and features both solar panels and a living wall, leading to it being declared Sustainable Development of the Year at Business Link Magazines brick awards.
The building features an Air Source Heat Pump with a hybrid VRF system, one of the first to be used in a university. It also utilises night cooling in certain spaces and thermal massing, which helps to maintain an ambient temperature, reducing the needs for additional heating and cooling. The scheme is aiming for a BREEAM Excellent rating and has achieved a DEC B and EPC A rating.
The building is faced with two bricks: the Wienerberger Clifton Grey Multi and Michelmersh Windemere Grey. The Windermere Grey was used to the majority of the building, offset by the Clifton Grey Multi at ground floor and lower two storey annexe section of the building. The pale consistent colour of the Windermere Grey is complimented by matching windows and adjacent splayed panels to give a classical limestone like appearance. In contrast, the multi is unmistakeably a brick façade, and draws the eye from the clean lines above.
One of the standout features of the project is the brickwork from ground to first floor. This is built stretcher bond in alternating projections of 20mm. This detail brings further contrast between the two bricks and gives separation in texture and a change of relief to the annexe's appearance. The incorporation of a green wall to the high-level roof area adds a dramatic visual impact by contrasting the natural foliage with the surrounding brickwork.