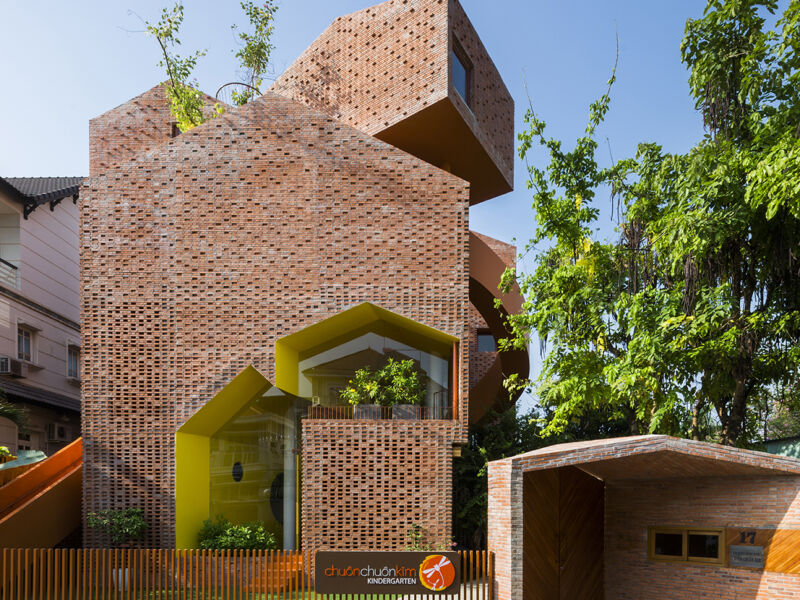 The Chuon Chuon Kim 2 Kindergarten project was introduced to Ho Chi Minh City's District 2 as an educational environment that will stimulate meaningful interactions between pupils and teachers. Instilled within the school is an openness and curiosity that allows people of all ages to explore the space in a calm atmosphere. 
Like a giant Lego building, the kindergarten is constructed entirely in bare brick form, using patterns and openings to bring a degree of playfulness and a unique aesthetic. Particular attention has also been paid to opportunities for natural ventilation.
Classrooms and utility rooms are organized around a playful core. Each floor is arranged in an alternating pattern to enhance vertical interaction, an openness it is hoped that will engender greater receptiveness of children and gently encourage their creativity.
The relaxing atmosphere continues to the classroom and the core, which is ample in size and full of movement. Viewed from the ground floor garden, the spaces form an aperture that frames a continuous perspective of the inside.
Continuing upwards, the interior spaces connect to an open rooftop garden, that sits unassumingly waiting to be discovered with a seemingly infinite vista of the Saigon river.