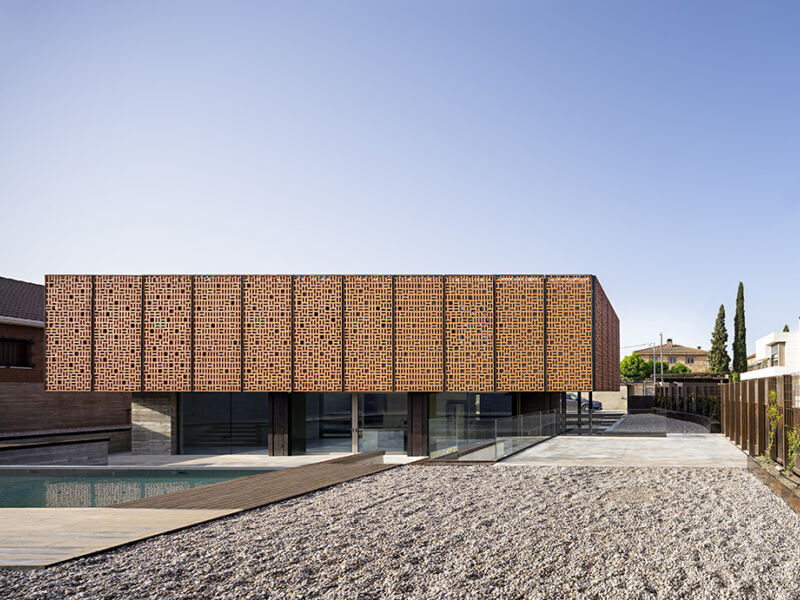 The Casa Farol or Lantern House, resolves the issues surrounding how the building should be placed within the municipality and user-home interactions should develop have been adressed using a traditional material: ceramic. While human life, in its essence or basic needs, has not changed much over recent centuries, social issues have changed substantially, shifting towards ever-increasing complexity. The form of these new conditioning factors offers, in contrast to our complex contemporary domestic lifestyle, a simple, suspended box, with defined edges and limits, made of clay. It organises the plot, the dwelling's uses, the privacy of its users and, above all, the light.
The tension between the clay and the void allows the light to vibrate and be shaped. As with sound in wind instruments, where the air passes through the holes to modulate melody, the red material extracted from the earth and cooked in kilns since ancient times offers a range of experiences to the user through the link between man and matter, expanding the qualities of the house, which connects us to the deepest part of the human being.
The ground level, surrounded by glass, is excavated from the main level of the plot to both get more privacy from neighbours and merge outdoor with indoor areas. In contrast, the ceramic-curtain box specially designed and patented for this unique project strength the value of the ceramic to its maximum meaning since there are not cement joints between them. This special construction detail makes a multi-sensorial shade inside the house that creates a singular atmosphere. Besides, the way the light hits the bricks in different sides of the ceramic box offers multiple tones, material perceptions and textures that change along the day. As a high-tech system, the ceramic cladding works like a curtain that filters not only the light but also the many different grades of privacy.
The two worlds (ground floor -living or day area- and first floor -night area- that have been created new functional relationships through the ceramic lattice. While during the day the ceramic curtain works as a sun protector enhancing a heavy perception of the box, at night the indoor light that is projected out of the clay box visualise the opposite effect: a light and porous box that "breathes" letting the air flow in and out.