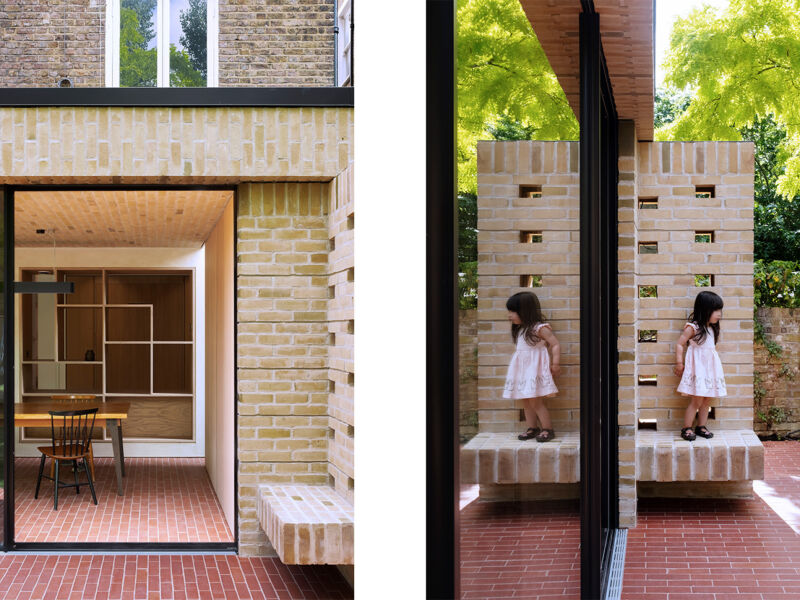 Sanya Polescuk Architects' extension to a ground-floor flat in North London features brick walls, floors and ceilings. The brief was for a flexible space that would suit the client's growing family and engage with the mature garden. Showcasing 'Staffordshire Red' paving bricks by Ketley which compliments the lighter 'Kalahari" bricks for the walls, clay brick  was chosen as the principal building material to avoid solar overheating, and as part of a low-risk approach to gaining planning consent. 
The new brickwork is two shades lighter than the existing masonry and contains around 10 per cent of green glazed faces in order to clearly delineate the old and new elements. Slim clerestory windows set beneath the contradictory weight of brick ceiling bring additional daylight into the deep plan. A 'carpet' of red brick visually unites the interior and exterior spaces when the garden-facing glass doors are slid back. 
Hand-made brick soffit panels are mounted on interlocking strips for speed of mechanical fixing on site. The bricks themselves were batched by the manufacturer and the whole clutch fired with a drizzled, mottled glaze, which has left a smattering of olive green fragments within the straw-coloured surface. A green roof planted with native wildflowers tops the single-storey structure.
"We didn't shy away from the pretence that this type of construction requires", says project architect Alex Blundell. "This informed our choice of stretcher bond, which together with a grid of internal ventilation holes, gives some clues to the artifice that suspends a large horizontal brick 'wall' overhead".