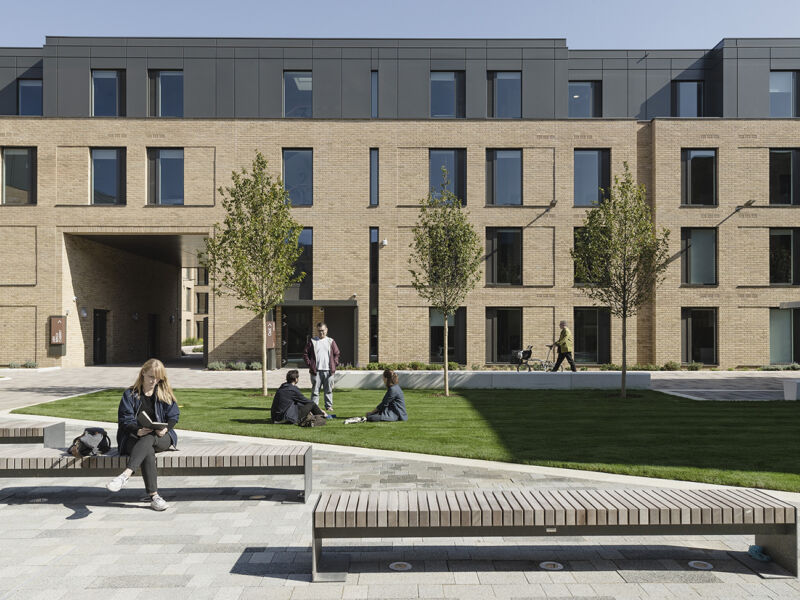 A new high-quality clay brick student development, designed by Studio Partington, Hox Park sits within a stunning elevated parkland overlooking the river Thames. Four low-density blocks (housing 500 studio and en suite bedrooms) define a series of landscaped collegiate courtyards, creating a welcoming new home for students from around the world.
The carefully considered material choices of the yellow soft mud flat multi brick and textured precast limestone is key to the project's success and, were determined by the relationship with the adjacent Grade II* Air Forces memorial and its gardens and the desire to complement the outstanding landscape setting. The specific brick was chosen for its warm and textural qualities as well as to blend in with other existing buildings around the site. It achieves a timeless, cost effective and robust building; lending fairly uniform elevations and simple, repeated details a high quality, crisp finish as well as a degree of subtle variation creating a rich façade and suitable backdrop to the landscaped courtyards and ancient woodland setting.
Ranging from three to four storeys in height, the blocks are visually united by their beautifully composed and structured solid clay brick facades. The yellow multi brick with subtle hearting and occasional iron spots brings a level of variation to the façade without being fussy.
On the facades brick piers, full height windows and adjacent louvre ventilation panels are repeated, expressing the development's programme of 500 near identical student rooms, while drawing on subtle recesses to cast shadow and thereby provide an element of animation.
Hox Park was commended in the Large Housing Development category of the Brick Awards 2019. To enter your project in this year's competition, click here