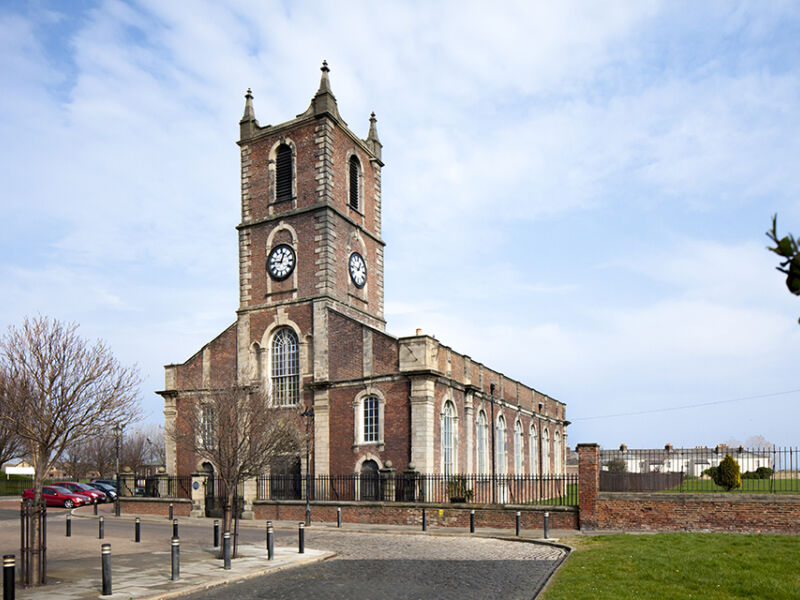 The brickwork at( Grade I listed) 17Nineteen was a major challenge in this project as it is a predominantly brick building (with areas of stone coursing and details), and the brickwork had deteriorated significantly over the years.
The bricks had suffered from high levels of water ingress at the wall heads and bases, and extensive areas of hard nonporous cement mortar both internally and externally. Removal of x2 notice boards highlighted that originally (when it was built in 1719) the church was tuck pointed and the small areas which were found to be still intact are a rarity in this part of England, and with carefully working around these areas we were able to retain this for future generations and prosperity.
However, the overriding impression of the building was the brickwork and pointing, and Historic England and Sunderland Council Conservation Team were involved in decisions regarding brick replacement, lime mortar sampling, methodology etc with the design team from the early stages. Matching and replacing the existing brick involved numerous samples of colour and size, and The York Handmade Brick Company Limited visited site in Sunderland and produced an excellent match in both colour, size and shape.
It was agreed that "Thirkleby Blend, especially fired by York Handmade to minimise striping on the face was the best option and these were made specifically by devising a way of stacking them in the kiln so that the bricks that are stacked on edge only contact each other face-to-face rather than perpendicularly. The brick size was also made to measure reduced to 230 x 110 x 55mm as smaller bricks were used in the early 1800's.
The scope of works includes repair, consolidation and repointing of masonry (stone and brickwork) to all external elevations, as well as repair, consolidation and repointing of internal masonry - In total 16,865 bricks were replaced and produce the seamless impression that can be seen today.
Getting the existing damaged bricks out and new ones in was especially difficult due to existing hard mortar, due to the buildings listed status and historic significance this was done painstakingly by hand by trained stonemasons. A 1735 'Apse' addition on the East end was a huge challenge due to undulating wall surface
To preserve the heritage skills needed, and to encourage the next generation to care for and love our historic spaces we funded two apprenticeships, one a general operative called Tyler. Tyler followed the stone masons around from day one, taking a particular interest in brick and stonework even taking the off cuts of stone home with him to practice and using his first wage packet to buy a set of hand tools. Tyler completed his apprenticeship with a love of stone masonry and brickwork and has since been offered a fulltime post with the main contractor and has taken up a stone masons course at York College. A full scope of works is included as an attachment which outlines the lengthy process of removal, repair, replacement and conservation of all brick surfaces.