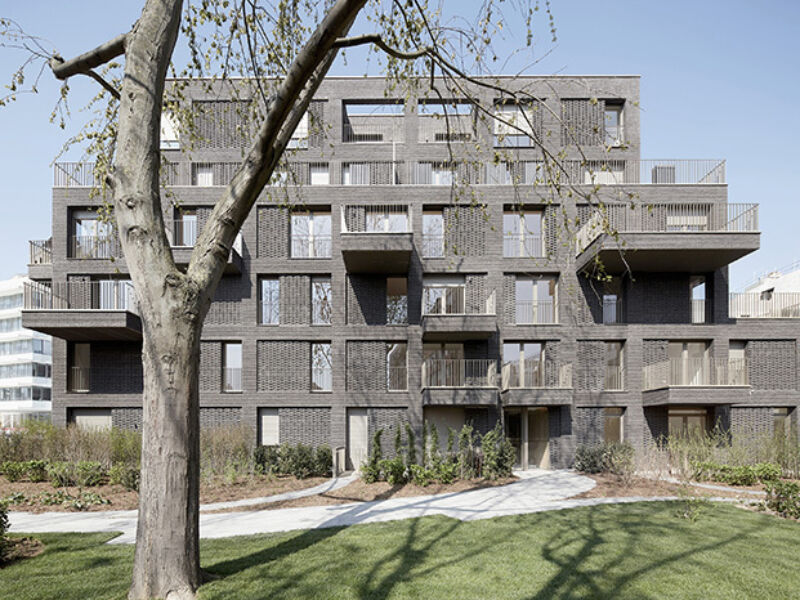 This project, based alongside a peaceful canal in Paris, is conceived as a homogeneous whole, sober, and refined. The building envelope reflects and answers to the architectural heritage of the city and the qualitative development of this new district, in the view of the architect.
One of the features of Pantin in Paris, which is yet another amazing build, by that excellent architectural practice, Avenier-Cornejo Architects in France, is the creation of a breakthrough in light and space, visible from the square.
"We developed the layout of the buildings around this favourable orientation of the square and canal that allows as many homes to enjoy the advantage and peaceful view of the canal, with an elegant and contemporary architecture", says Christelle Avenier & Miguel Cornejo of Avenier-Cornejo Architects in France. "It acts as a breath of fresh air, and a visual extension of the flora and fauna, extending through to the heart of the complex".
The opening structures and the location of the three buildings while forming a separate but coherent whole and pulled together through both an interior and exterior link made possible with a large number of terraces, loggias and balconies.
Solid full bricks made by Wienerberger of varying hues are the main identifiable material chosen for this set. Very contemporary, the brick allows a wide variety of uses recognised for its durability and its environmental credentials. Natural materials such as clay and water match the architect's desired to blend the buildings with its local city landscape.
The three brick buildings each have a specific colour brick that identifies them. The windows as well as the shutters are in metal-coloured aluminium, as well as the guards and the underside of the balconies.
Local open spaces planted with various vegetation that is robust and requiring little maintenance and watering is used to pull each building together to form the whole. The choice of entomophilous and low allergenic plants will bring with it, the double advantage of promoting the biodiversity of insects and birds while limiting nuisances for the project's neighbours.